STORY HIGHLIGHTS
NEW: New details emerge on two men who escaped from coal mine after blast
NEW: Citing air quality tests, officials say it's still not safe enough for a rescue
NEW: "30 brave men" waiting to rescue their colleagues, a union rep says
No one has seen the 29 miners and contractors since an explosion Friday afternoon
(CNN) -- While rescuers wait for the go-ahead to try to reach 29 men stuck underground for three days, fresh details have emerged on two of their colleagues who escaped the New Zealand coal mine after an explosion.
Daniel Rockhouse -- whose father is the mine's safety director and whose brother remains trapped -- was working as far as 1.8 km (1.1 miles) deep into the mine when the blast occurred around 4 p.m. Friday, said Pike River Coal CEO Peter Whittall on Sunday evening, shortly after talking to both men.
Rockhouse walked on in the dark and through smoke, calling once from a phone in the tunnel and sporadically spraying fresh air on his face from ventilation valves.
Along the way, he spotted Russell Smith lying on the ground, conscious but disoriented, according to Whittall. Rockhouse put his arm around Smith, then walked out with him. The two men spent the night at an area hospital before being released the next day.
Rescue operations remain on hold to re-enter the mine to get the men -- ages 17 to 62 -- trapped as far as 2.2 kilometers (1.4 miles) from the tunnel's opening. No one has heard from them since Friday's blast at the mine on New Zealand's west coast between Greymouth and Reefton, with emergency authorities and relatives holding out hope they are still alive.
As they have the last few days, those in charge of the mine and rescue operation said tests of air quality inside the mine indicated that conditions were still not safe enough to send in rescuers. They cited elevated carbon monoxide and methane levels, as well as evidence of what Whittall called "heating of some sort underground."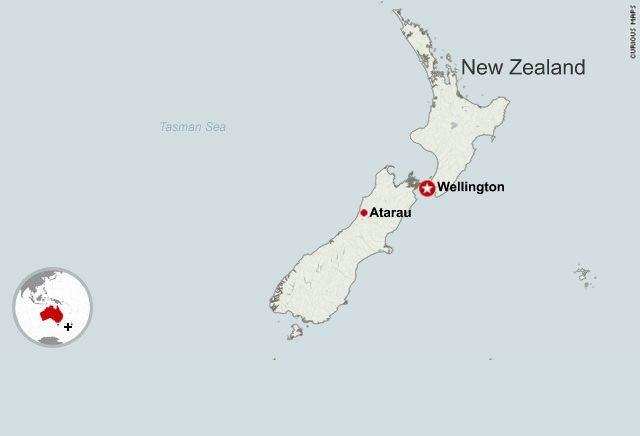 Explosion at New Zealand coal mine
Trevor Bolderson, a mining union representative involved in the operation, said authorities are still trying to determine if a fire is still burning inside the mine and if it's safe to navigate. Until then, the rescuers -- all miners themselves -- are working on contingency plans and waiting for the go-ahead.
"We have to be absolutely certain that we're not putting them out there in an explosive situation," Bolderson said. "We've got 30 brave men waiting to go underground right now."
For the first time Sunday, family members of those trapped were escorted to the rescue site, which is near the town of Atarau about 144 kilometers (90 miles) northwest of Christchurch. Before then, they'd been gathering at a Red Cross hall in Greymouth. Most of the missing men are New Zealanders, but there are also two Australians, two Britons and one South African, New Zealand Police said.
Whittall called the visit emotional, as relatives spotted their loved ones' cars and asked questions of those working to get them out.
"It was very hard," he said. "There was a lot of emotion on the site."
While drinking water is available inside, the men likely only brought enough food for a single day. The mine is ventilated, and rescuers are holding out hope that the men are breathing fresh air in a ventilation shaft.
Whittall said that recent new measures improved the mine's ventilating capacity by 30 percent. Still, mine and rescue personnel don't know if the men found a safe haven or if parts or all of the mine collapsed.
"As gas builds up further in the mine, it depends on whether those ventilation systems are standing or not," Whittall said.
Rescuers were working to drill another small hole from a nearby mountain, though that would not be complete until the evening, said Whittall. The hole would dig down between 100 and 150 meters (328 to 492 feet) and would be about six inches wide. That would make it deep enough to collect gas samples from a different part of the mine, though Whittall said that the hole could be expanded and used for different purposes as the situation unfolds.
The tests thus far have showed troublesome levels of carbon monoxide as well as "a slight increase in methane," Whittall said earlier on Sunday, suggesting something was or still is burning underground. Measures of air quality inside the mine taken every few hours over the past few days were trending in the right direction, he said.
"There is something happening underground, the extent of which we don't know," he said. "(The good news is that) the heating was reducing, rather than decreasing."
And Gary Knowles, the superintendent of the Tasman Police District who is heading the rescue effort, continued to stress the need to ensure that the rescue team would be safe as well. While acknowledging there would always be some risk, he said currently there's not evidence to show that conditions inside the mine are stable and the air quality is safe.
"We're talking about people's lives here," said Knowles. "My decision is made based on safety."
FOLLOW THIS TOPIC