Death toll climbs from Indian building collapse, owner arrested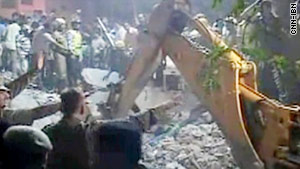 Rescuers try to free people trapped under a collapsed building in Delhi.
STORY HIGHLIGHTS
About 80 other people are injured in Monday's collapse
Heavy monsoon rains apparently causes the collapse
The building might have been unauthorized, an official says
New Delhi, India (CNN) -- The owner of a five-story residential building that collapsed in the Indian capital, New Delhi, killing dozens, has been arrested and charged with culpable homicide, police said Thursday.
The development comes as the death toll from Monday's incident climbed to 69 and authorities evacuated nearly 40 neighboring buildings that were found with water in their basements, officials said.
The finding is important, because the building apparently collapsed after its foundation had weakened after exposure to water from this year's heavy monsoons, said City Municipal Spokesman Deep Mathur and Chief Minister of New Delhi Sheila Dikshit.
The structure was situated closely to the Yamuna River, which flows through New Delhi.

Deadly building collapse in India
"I believe it's an unauthorized building," Dikshit said this week. "I believe there was water in the bottom of the basement for many days."
Encroachments on public land, illegally built structures and the use of residential buildings for commercial activities are common in New Delhi, which is home to about 17 million people.
The weak enforcement of laws and corruption are generally blamed for unauthorized building.
FOLLOW THIS TOPIC