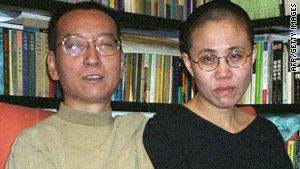 Liu Xiaobo (L) and his wife Liu Xia pose for a photograph in Beijing, 22 October 2002.
STORY HIGHLIGHTS
NEW: Two attorneys said they've been barred from leaving
Lawmakers will rally in Hong Kong to call for Liu's release
Britain said it will send its ambassador to awards ceremony
Beijing, China (CNN) -- The family of Nobel Peace Prize winner Liu Xiaobo may not be able to visit him in prison before the awards ceremony in December, a human rights group said Wednesday.
Liu's brother recently applied to visit him in prison, but could not reach the prison staff, said the Hong Kong-based Information Center for Human Rights and Democracy.
Also, Liu told his wife during a prison visit last month that he would soon send letters to family members. But the family has not received any mail from him, the center said.
The center -- a one-man operation by a former student activist who fled China in 1989 -- monitors human rights abuses in the Chinese mainland.

Jailed dissident wins Nobel prize

China: Dissident's Nobel an insult

Lawyer hopes Nobel will help Liu Xiaobo
Liu's brother, Liu Xiaoxuan, said he has a valid passport that would allow him to travel to Oslo, Norway, for the awards ceremony on December 10. But his workplace told him not to attend, according to the center.
The Nobel Committee outraged Beijing last month when it chose Liu, who co-authored Charter 08, a petition calling for political reform. Liu is serving an 11-year sentence for inciting subversion of state power.
The Chinese government condemned the Nobel Committee for honoring Liu, calling him a criminal.
After Liu's win, Chinese police briefly detained or put under house arrest several Liu supporters and other activists, including his wife, Liu Xia, the China Human Rights Defender said.
Mo Shaoping and Shang Baojun, attorneys who have represented Liu, said they have been barred from leaving China, and there is speculation that police are stopping them from attending the award ceremony
Mo said he was stopped by police ahead of a trip to London for an International Bar Association academic seminar and authorities said his traveling would "endanger national security." Shang was unable to get an entrance-exit permit.
"If the speculation is true, the Chinese government is overactive," Mo said, "and the charge of 'endangering the national security' is also groundless."
"The reaction of Chinese government is very unwise, which shows a lack of tolerance of a big country, and also a lack of politicians' wit. The government can show their disagreement with Liu's winning, but it cannot restrict freedom of its citizens, which is against its own law. This shows a very negative image of China in the international society. China should not be against the mainstream value in international society," Mo said.
On Saturday, several lawmakers in Hong Kong plan to rally to demand the release of Liu.
The lawmakers will hold their demonstration in Macau during a visit by China's premier, Wen Jiabao, said the Hong Kong Alliance in Support of Patriotic Democratic Movements of China.
In naming Liu as the 2010 winner, the Nobel Committee said: "Over the past decades, China has achieved economic advances to which history can hardly show any equal. The country now has the world's second-largest economy; hundreds of millions of people have been lifted out of poverty. Scope for political participation has also broadened. China's new status must entail increased responsibility."
Meanwhile, Britain on Wednesday said it will send a representative to Oslo for the awards ceremony.
'It is the normal practice for the British ambassador to Norway to attend the Nobel Peace Prize ceremony and the ambassador intends to attend this year," the British foreign office said.
A day earlier, the French foreign ministry said France too will send someone to to the ceremony, despite pressure from China not to honor Liu.
FOLLOW THIS TOPIC