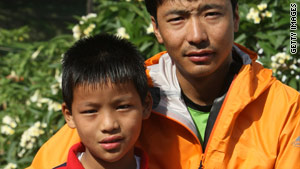 Sherpa Pemba Dorje and his son Tseten say they'll climb Everest in 2011.
STORY HIGHLIGHTS
A record-holder Nepalese Sherpa says his son will climb Mount Everest
The boy, 9, reportedly climbed 19,440-foot mountain as practice last week
Experienced climbers say the boy should not try to climb world's tallest mountain
Rules prohibit teens younger than 16 from climbing Everest
(CNN) -- This year a 13-year-old from California stunned the world when he became the youngest person to summit Mount Everest.
Now a 9-year-old Nepalese boy says he can do it, too. Or at least that's what the child's father is reportedly promising.
Sherpa Pemba Dorje, who holds the world record for the fastest Everest ascent (8 hours, 10 minutes), recently boasted that his grade-schooler will try to conquer the globe's tallest mountain in 2011.
To illustrate his seriousness, Dorje and his son Tseten last week climbed Mount Ramdung, a 19,440-foot peak in the Dolakha region of Nepal, according to the Himalayan Times daily and the Indo-Asian News Service. Dorje told reporters it was a practice run for Everest, which is more than 29,000 feet.
The notion of another baby-faced adventurer -- backed by an ambitious parent --sailing the widest seas or climbing the tallest mountain unearths a familiar question: Does inherently dangerous record-setting have an age limit?
"Little children do not belong on big mountains," said Jiban Ghimire, a Nepali renown for leading multiple expeditions on Everest. Ghimire's Shangri-La Treks & Expeditions, a go-to climbing assistance company, has employed Dorje as a guide. "I know Pemba Dorje, and I know he's said he wants his child to do this, that his son is capable of it.
"I would not want to discover, on that mountain, that the boy is not capable," Ghimire said. "I feel that you ask for something bad with this."
The obvious objections to allowing a child to climb Everest, or any major mountain, have to do with the physical toll it could take on his or her body. While there's no conclusive research that an adolescent is more susceptible to developing potentially fatal altitude sickness, anecdotes of mental and physical woe abound.
Past Everest climbers have experienced motor-skill dysfunction, sleep troubles, language disassociation and other problems that may be related to depriving the brain of oxygen while climbing, experts say.
Alan Arnette, a Colorado-based climber, has been on 20 expeditions from Tibet to Argentina. He most recently climbed 27,500 feet up Everest.
"Nobody doubts how talented Sherpa Pemba is," Arnette said. "Any Westerner would be smart to trust their life with him on the mountain. But that's any adult."
"When you get up there, it's not like you're gasping for air, you feel like you want to sit down and sleep forever -- that's altitude sickness," he said. "You have to be aware of what your body is doing and act accordingly. That's an adult's experience. Who knows what would happen to a developing child."
Besides, Arnette surmises that the odds of the boy making it past base camp are "just about zero."
The China Tibet Mountaineering Association, which regulates expeditions in Tibet, issued new climbing rules this year that ban anyone younger than 18 from climbing the Tibet side of Everest. A climber must be 16 to attempt Everest from the Nepali side. Penalties for breaking the rules are stiff, ranging from high fines to prison.
Arnette points out that every expedition must have a permit, which can cost tens of thousands of dollars. It's relatively easy for Everest authorities to catch someone trying to climb illegally, he said. Permits must be shown to officials when entering the park, and liaison officers from the Nepal Ministry of Tourism are assigned to each expedition group to help in case something goes wrong, and to ensure groups aren't leaving behind garbage.
In Dorje's case, everyone on the mountain knows who he is. He's clearly drumming up publicity for the climb. So why? Is it money? Arnette doesn't think so.
"No company or sponsor is going to get behind this. There's too much risk," he said. "My best guess is that he's motivated by national pride."
In May American Jordan Romero, 13, became the youngest person to summit Everest.
"I think all the Everest records should be held by Nepalese people," Dorje told London's Daily Mail.
Jordan received worldwide press for his feat, most of it glowing, and he encouraged younger kids to follow in his bootsteps. "Age is not a matter," Jordan told reporters in Kathmandu a day after he returned from his climb, which took 10 months and 10 days. "My body did cope with the altitude very well."
The teenager broke a record few thought possible.
"The American boy is famous. When many people think of Everest, they say his name," Ghimire said. "But a mountain doesn't care who you are."
FOLLOW THIS TOPIC