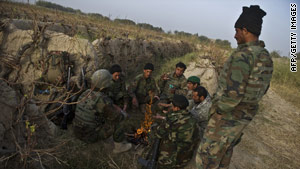 Afghan troops keep warm on a joint patrol with U.S. troops in Kandahar province last month.
STORY HIGHLIGHTS
Maines have handed over two small outposts in the south
This comes ahead of a NATO summit
Petraeus says Taliban momentum has been broadly arrested
Kabul, Afghanistan (CNN) -- While President Barack Obama and the military talk about transferring territory to the Afghans next summer, in many places across Afghanistan, largely out of public view, the handover of security from U.S. to Afghan forces has already begun on a small scale.
In the last several days, U.S. Marines in southern Afghanistan have handed over two small outposts to Afghan forces in the district of Nawa, a place which once saw heavy fighting, according to a senior official from NATO's International Security Assistance Force.
Across the country, several small outposts have either been turned over to the Afghans, or U.S. troops have pulled out of areas because Afghan control is sufficient, the official said.
These moves are in advance of the broader plan to turn over entire provinces, districts and sub-districts to Afghan control, expected to begin in 2011.
Just days before the mid-November NATO summit in Lisbon, Portugal, these minor moves will give the alliance, and the Obama administration, the ability to announce that transition on some scale has begun.

U.S. soldiers fend off attack
The larger scale transition is now being intensively planned by U.S., NATO and Afghan officials, according to several ISAF military officials.
NATO is now calling it "Inteqal" -- it means "transition" in both Dari and Pashtu, according to NATO -- but going down that road is a bit slower than first expected. Still, succeeding at Inteqal will be the road home for U.S. troops in Afghanistan.
At next month's NATO summit in Lisbon, no announcements are now likely about which specific areas of Afghanistan will be first to be turned over or transitioned to Afghan control, according to several officials representing member nations of the alliance.
Instead, NATO will simply announce that the transition process is under way and reaffirm that Afghan security forces are expected to take the lead in conducting security operations across the country by the end of 2014.
It's a process that will be very gradual.
In an exclusive interview with CNN last month, Gen. David Petraeus, the top commander in Afghanistan, said he does expect to be able to recommend a U.S. troop reduction in July, but he declined to say how many troops might be headed home.
He said some could also be reassigned to other jobs inside Afghanistan.
Petraeus told CNN that in just the last few weeks, he has seen progress against the Taliban momentum in some parts of Afghanistan, including west of Kandahar.
"My assessment is that the momentum that the Taliban enjoyed until probably late summer has broadly been arrested in the country. It doesn't mean it's been arrested in every location in the country, but it means by and large that is the case, and moreover, more importantly, the ISAF and Afghan forces have achieved momentum in some very important areas," he said.
One Western official confirmed to CNN that earlier this year there were indications that the alliance and the government of Hamid Karzai were ready to agree on the first several provinces that would be part of the transition process, but delays in establishing the final agreements are likely to mean now that no announcements will be made until early 2011.
Several months ago, U.S. military officials were privately indicating some of the first provinces to be turned over to Afghan control could include Parwan, Panjshir, and Bamiyan, where violence has been relatively low.
Maj. Gen. John Campbell, commander of Regional Command-East, told CNN he also believes those three provinces will be some of the first to be turned over.
The French have also made it clear they would like to leave a district of Kabul province and turn it over to Afghan control.
NATO and the Afghan government have now established a joint process to assess which areas are ready for turnover based on several factors, according to the western official who is familiar with the internal debate inside the alliance.
A joint Afghan-NATO Inteqal Board is being set up, provinces will be assessed, and the recommendations made to the Afghan Cabinet for final approval.
FOLLOW THIS TOPIC