Rescue crews find 135 missing people after Indonesia quake
STORY HIGHLIGHTS
The quake triggered a tsunami, killing more than 400
At least 133 are still missing, authorities say
Authorities say hundreds more are injured
(CNN) -- Rescue crews have found 135 missing people after a 7.7-magnitude earthquake struck off Indonesia's coast, triggering a tsunami and leaving hundreds dead, authorities said Saturday.
At least 413 were killed and 133 remain missing, according to the Indonesia Disaster Management Agency.
Dozens were found alive over the past five days, officials said. Authorities said 270 people were seriously injured.
More than 22,000 people have been displaced or affected by the tsunami, which swept up villagers and swallowed homes without warning.

Video: Tsunami kills 30 in one village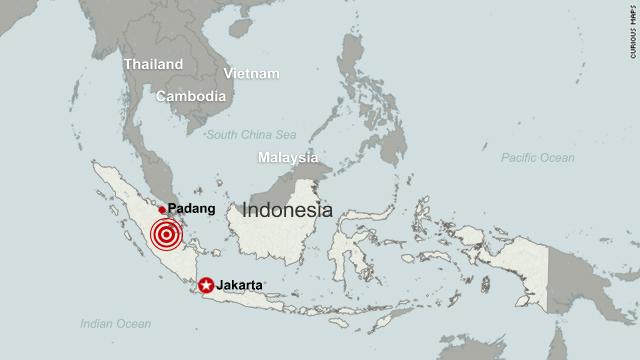 Map
The government is considering relocating some residents in the earthquake-prone islands near Sumatra, the state-run Antara news agency said.
On the country's hard-hit Mentawai Islands, at least six of the 27 villages have "practically been flattened," state media said, citing the governor of West Sumatra.
The quake struck Monday, triggering a tsunami warning. Its epicenter was 240 kilometers (150 miles) south of Padang, according to the U.S. Geological Survey.
The remoteness of many Indonesian islands left residents without warning and continued to limit communications and stymie rescue and recovery efforts.
Medicine and supplies being used to treat hundreds of injured residents are being depleted, Antara reported.
The naval base in Padang had set up aid command posts in the Mentawai waters as well as medical command posts for victims, Antara said. A cargo plane was also ferrying supplies.
FOLLOW THIS TOPIC