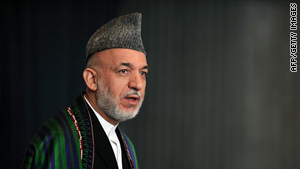 Afghan President Hamid Karzai.
STORY HIGHLIGHTS
Ambassador Holbrooke says Karzai "was correct on this issue"
The thousands of security personnel in the country poses a problem, he says
The tensions raised last week are calmed, he says
Washington (CNN) -- A top-ranking American diplomat said Friday that the international community, including the United States, did not pay enough attention to the Afghan government's repeated statements that it was serious about cracking down on private security contractors on Afghan soil.
Speaking to reporters at a press briefing, Ambassador Richard Holbrooke, the U.S. special representative for Afghanistan and Pakistan, said he supports Afghan President Hamid Karzai's decision to rein in private security companies.
"He was correct on this issue, and we didn't -- the international community did not take it seriously enough, and we should have," Holbrooke said. "And now we are."
Karzai has said he believes that the private security companies are creating a parallel security system that challenges the Afghan security forces. He formally announced their disbandment August 17.
The Afghan government said Wednesday it will form a committee to plan the phasing out of private security contractors without endangering development projects.
The committee, led by Afghanistan's minister of interior and staffed NATO and International Security Assistance Force representatives, will prepare a timetable for the dissolution of contractors protecting development projects and submit it to Karzai by November 15, the Afghan government said.
Holbrooke, just back from Afghanistan, dismissed news reports saying that Karzai is bowing to international pressure. "He didn't back down,' Holbrooke asserted. "He just insisted on compliance with this previously issued decree. Afghanistan is a sovereign country, and respect for its sovereignty was necessary."
He added, "Tens of thousands of security guys, from all sorts of countries, wondering around, heavily armed, some of them illegal, some of them highly corrupt, some not corrupt, under multiple contracts -- you can't have country in a situation like that."
Holbrooke acknowledged that there was "a big dustup last week," and "a lot of tension in the air" after Karzai's announcement, but said he issue is under control now.
The United States had previously expressed concern about Karzai's pledge to phase out the country's 52 private security companies by year's end, saying that if implemented, the move would leave critical aid personnel unprotected and unable to continue their work.
U.S. officials have been negotiating with the Afghan government over such protection, and had been asking for clarification on which contractors would be allowed to remain in the country and under what conditions they could operate.
Earlier this month, the Afghan government clarified exceptions to the proposed ban, saying that firms offering protection to embassies and foreign diplomats would be allowed to continue to operate. The decision "addressed the concerns of NATO and foreign embassies regarding the private security companies' dissolving process," a statement from Karzai's office said.
However, it said that other private security companies not engaged in that work "are a strong threat for the national security and national sovereignty of the country" and that their dissolution would continue as planned.
FOLLOW THIS TOPIC