STORY HIGHLIGHTS
A multiagency, international operation conducted raids in Afghanistan
Raids Thursday disrupted four labs close to Pakistan border
Head of Russia's federal drug control agency hailed the joint mission
Heroin from Afghanistan flows into Russia through its southern border
Moscow, Russia (CNN) -- Russia's joint operation with the United States to destroy Afghan drugs laboratories marks the first time it has deployed security forces in the region since the Soviet military withdrew in 1989, Russia's anti-narcotics chief said Friday.
The operation in Nangarhar Province, eastern Afghanistan on Thursday was jointly conducted by the United States Drug Enforcement Agency (DEA), the Department of Defense, NATO, the Afghan Ministry of Interior and the Russian drug control agency.
It involved raids on four laboratories associated with a significant dugs trafficker in the province. Approximately one metric ton of heroin worth $250 million was seized, along with a smaller quantity of opium and items used in drug production, U.S. authorities said.
"This is the first operation in Afghanistan in which Russian drug police officers took part," said Victor Ivanov, head of Russia's federal drug control agency.

Video: U.S., Russia make heroin bust

Video: Afghan drugs target Russia

Video: Opium trade exposed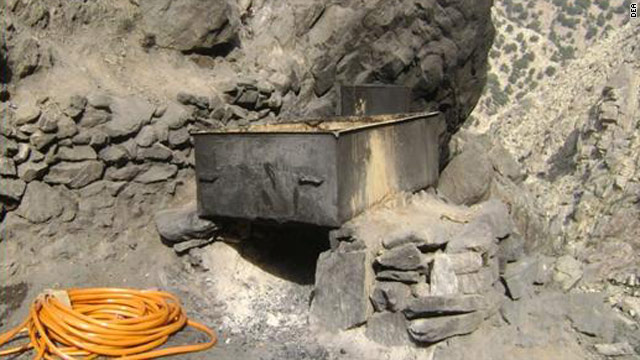 Gallery: Afghan drugs bust
But he stressed they were not in Afghanistan as a military unit, but part of an agreement between Moscow, the Afghan government and the U.S. DEA to share information about the flow of drugs into Russia via its vast southern borders with Turkmenistan, Uzbekistan and Tajikistan.
"For the first time our officials handed over information about the location of drug laboratories, which was confirmed by the Afghan Interior Ministry and the U.S. DEA," he told CNN.
Planning for the operation took three months, during which time coordinates, names, locations, and other valuable data was established, he added.
According to officials, 70 people were involved in the raid close to the Pakistan border, with helicopter gunships and Afghan police providing air and ground cover.
"It was a huge success which became possible as a result of our joint well-coordinated work," as well as a result of the "resetting" of Russian-U.S. relations," he told reporters at a news conference in Moscow, in quotes carried by Russia's Interfax.
Ivanov was referring to the Medvedev-Obama commission, a working group set up in 2009 by the leaders of the U.S. and Russia to improve communication and cooperation between the two former foes.
Russia, estimated by the United Nations to have between one-and-half and six million heroin addicts, has long targeted the poppy fields of Afghanistan as the source of the problem, calling on the U.S. and its NATO allies to do more to eradicate the opium trade.
However the strategy of destroying the poppy fields of southern Afghanistan, which yield much of the heroin flooding out of the country, is viewed as counterproductive by the U.S.-led coalition because it drives farmers into the hands of the Taliban.
The [Afghan] farmers are the hostages of the situation. They are forced to work like slaves in order to survive.
--Victor Ivanov
Ivanov disputes this, pointing out how successful the campaign has been to eradicate the crops used to produce cocaine in Colombia, one of the world's biggest producers.
"The [Afghan] farmers are the hostages of the situation," he told CNN. "They are forced to work like slaves in order to survive. They are working on the plantations they do not own. If they were presented with the alternatives, they would accept them."
With vast quantities of heroin and opium flowing into Russia, Ivanov stressed Moscow was keen to cooperate further with NATO-led forces in Afghanistan.
"We are interested in further cooperation in destroying drug laboratories," he told reporters, in quotes carried by Interfax.
"According to our sources, in Badakhshan alone, there are more than 400 drug laboratories and a large number are located in Helmand. The number of laboratories is huge, as we see."
But any future could be contingent on Russia helping NATO with its training activities and transit roots into Afghanistan, an issue Ivanov says makes many Russians uneasy.
"I get around 100,000 letters every year from citizens asking questions about drug trafficking and drug production," he told CNN. "A lot of people have started to ask if Russia is doing the right thing in allowing NATO to use its corridors to Afghanistan, considering it presents a bigger and bigger threat to Russian society."
FOLLOW THIS TOPIC