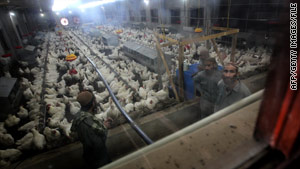 Workers inspect chickens at a poultry farm funded by the U.S. Agency for International Development in Afghanistan.
STORY HIGHLIGHTS
NEW: Separate report questions security contract
The coordination of contracts in Afghanistan is termed "confusing"
Auditors have recommended a centralized management system
Inspectors also criticize police station construction
(CNN) -- The U.S. government is doing a poor job of coordinating the work done and accounting for money spent by 7,000 contractors rebuilding Afghanistan, an audit found.
"Navigating the confusing labyrinth of government contracting is difficult, at best," the Special Inspector General for Afghanistan Reconstruction said in an accompanying statement Wednesday.
Nearly $18 billion was awarded for reconstruction from 2007-2009, the audit showed, but the Pentagon, the U.S. State Department and the U.S. Agency for International Development (USAID) "are unable to readily report on how much money they spend on contracting for reconstruction activities in Afghanistan," the inspector general found.
Despite its earlier recommendations, the inspector general said, there is still no central U.S. government database to track reconstruction projects.
"This audit is crucial because if we don't even know who we're giving money to, it is nearly impossible to conduct system wide oversight," said Special Inspector General Arnold Fields.
Four contracting organizations within the Department of Defense do not coordinate and share information with one another, the report found, adding there is a "minimal sharing" of information across government agencies.
The inspector general noted there was no comprehensive accounting of contractor spending before 2007. The current findings can help to "more quickly identify contracts at risk of fraud, waste and abuse," Fields said.
In a separate report, the inspector general found the construction of six police facilities in two Afghanistan provinces had poor contractor performance and oversight and was not completed. In fact, the inspector general said, the contractor will likely not secure new projects because of its performance.
The U.S. Army Corp of Engineers awarded a $5.9 million contract to an Afghan company in May 2007.
Work on six of the stations is behind schedule and likely to run over budget, the audit found. As of August 2010, four of the sites were not ready to be turned over to Afghan police
All six sites failed to meet construction plans and requirements, the audit found. "With regard to poor quality of construction, we observed that substandard in-place concrete and the absence of quality assurance and control testing meant that the structures did not meet building code requirements as required in the contract."
The audit, which faults U.S. Army Corps of Engineers oversight, said the Afghan contractor, which was paid $5 million, should come up with $1 million to correct the problems.
A separate report from the State Department's inspector general raised questions about the private security staff used to protect American diplomats.
One contractor, ArmorGroup of North America (AGNA), is being paid almost $100 million to provide security to U.S. diplomats working in Kabul, but the inspector general's report found that the contractor has failed to comply with the contract on key issues, potentially undermining "the security of the U.S. mission."
According to the report AGNA, which supplies the Kabul embassy with 400 security guards, has left various emergency positions unfilled and has hired workers without conducting background investigations or verifying experience and training. Many of the guards were found to not have the proper level of English language proficiency, leaving them unable to adequately communicate with supervisors.
The report, which charges that the contractor lost half a million dollars worth of U.S. weapons, also states that firearms training and canine explosive detection procedures are not up to par.
The company removed 20 employees after allegations of misconduct were raised. Its contract will end in December when a new security company will take over.
A message seeking comment left with the parent company of ArmorGroup was not immediately returned Thursday.
CNN's Jennifer Rizzo contributed to this report.
FOLLOW THIS TOPIC