7.5-magnitude quake strikes off Indonesian coast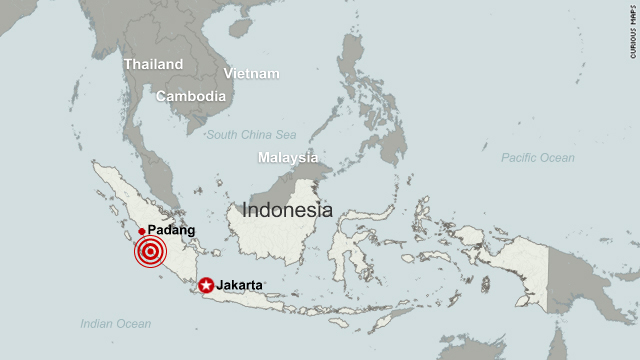 STORY HIGHLIGHTS
NEW: Tsunami watch is lifted
NEW: 6.1 quake strikes 5 hours later on opposite coast
No immediate reports of damage or injuries
(CNN) -- An earthquake with a preliminary magnitude of 7.5 struck off the coast of Sumatra, Indonesia, on Monday, the U.S. Geological Survey reported.
A local tsunami watch was issued briefly by the Pacific Tsunami Warning Center after the quake struck at 9:42 p.m. It was lifted about two hours later.
The quake's epicenter was located 240 km (149 miles) south of Padang at a depth of 33 km (20.5 miles), according to USGS.
There are no immediate reports of damage or injuries.
A magnitude 6.1 quake struck off the coast on the opposite side of Sumatra, the USGS reported, at about 2:37 a.m. Tuesday. There were no immediate reports of damage or injuries from that quake as well, and there was no tsunami warning issued.
FOLLOW THIS TOPIC