Afghanistan clarifies rules for private security companies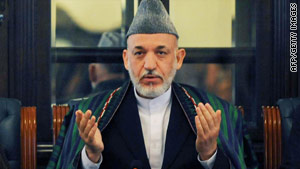 Afghan President Hamid Karzai's government has clamped down on private security contractors in the country.
STORY HIGHLIGHTS
NEW: "There still details to clarify," U.S. embassy official says
Afghan interior ministry says private security firms are allowed to protect diplomats
Earlier there was confusion over what a ban on such firms covered
The United States was negotiating for clarification regarding NGOs
Kabul, Afghanistan (CNN) -- The Afghan government on Sunday clarified the exceptions to a ban on private security contractors, stating that those firms offering protection to embassies and foreign diplomats will be allowed to continue to operate.
President Hamid Karzai's administration had called for the dissolution of all private security firms operating in the country, a process that was already under way. However, there were conflicting statements from the government on whether such firms would be able to continue to offer protection to diplomats. The United States was also negotiating with the Afghan government over protection for non-governmental organizations.
Sunday's announcement clarified that private security firms that have the responsibility of guarding the interior of embassies, escorting foreign diplomats, protecting diplomatic accommodations and protecting international military bases and weapons storage, will be allowed to continue their work.
The decision "addressed the concerns of NATO and foreign embassies regarding the private security companies' dissolving process," a statement from Karzai's office said.
Caitlin Hayden, spokeswoman for the U.S. embassy in Kabul, said the United States continues to support the decree regarding private security contractors.
"While we are encouraged by elements of the statement made today by the Afghan government, there are still details to clarify and work out, notably on how this will impact our development assistance and the implementing partners who help deliver that assistance," she said Sunday.
Karzai's office said that other private security companies not engaged in this work "are a strong threat for the national security and national sovereignty of the country," and that their dissolution will continue as planned.
The Afghan president had ordered that the country's 52 private security firms be phased out by the end of the year. The U.S. State Department is concerned that if implemented, the move would leave critical aid personnel unprotected -- and unable to do their work.
The United States was in intense negotiations with the Afghan interior ministry for a "clarification letter" that would spell out a consistent and uniform set of guidelines by which contractors would be allowed to remain in the country and under what conditions they can operate.
Sunday's interior ministry statement did not mention the role of those private security firms protecting NGOs and journalists. It was unclear whether a decision on these areas had yet been made.
"In coordination with our coalition partners, we are continuing to work urgently with the Afghan government to further clarify implementation of this decree so that development and reconstruction efforts are not negatively affected," she said.
CNN's Pierre Bairin and Matiullah Mati contributed to this report.
FOLLOW THIS TOPIC