Suu Kyi: I won't vote in coming Myanmar election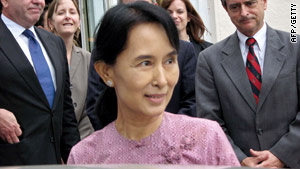 Nobel Peace Prize laureate Aung San Suu Kyi
STORY HIGHLIGHTS
Her party won't participate, so neither will she, her lawyer says
The party is illegal because it refused to register under the new constitution
Critics say the constitution is skewed toward military control
They also say the election is meant to create a facade of democracy
(CNN) -- Democracy activist Aung San Suu Kyi has rejected voting in Myanmar's coming election, the country's first in two decades, her lawyer said.
"Since NLD (National League for Democracy) is not participating in this coming election, she doesn't want to vote," her lawyer Nyan Win said Thursday.
The National League for Democracy, Suu Kyi's party, announced in March that it would not participate in the November 7 election. The party had refused to register under the country's new constitution, which automatically made the NLD illegal.
The constitution requires more than 100 military nominees in parliament, which critics say is aimed at tightening the regime's grip on Myanmar.
The country, also is known as Burma, has been under military rule since 1962. Critics say the coming election aims to create a facade of democracy.

Video: A look into Myanmar
Myanmar's military regime informed Suu Kyi that she has the right to vote, her lawyer said.
Her party won a landslide election victory in 1990, but the military junta rejected the results.
The regime recently passed a law that made Suu Kyi ineligible to stand in the November 7 election because of her court conviction. The Nobel laureate has called the law unjust.
Suu Kyi won the Nobel Peace Prize in 1991. She has spent most of the past 20 years under house arrest.
An estimated 2,000 political prisoners remain behind bars in Myanmar.
FOLLOW THIS TOPIC