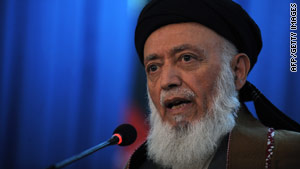 Rabbani told reporters "first steps" in pursuit of peace had been taken.
STORY HIGHLIGHTS
NEW: Rabbani urges NATO to back any peace effort
Afghan peace council leader cites "first steps"
Rabbani says "war cannot solve" problems
Kabul, Afghanistan (CNN) -- A former Afghan president who heads a panel seeking peace discussions with the Taliban says he's optimistic that serious talks can be forged one day but cautioned that it will take time.
Burhanuddin Rabbani spoke to reporters on Thursday at a press conference the day after the Taliban issued a statement denying reports of contact between the Afghan government and the Taliban.
Head of the High Peace Council, Rabbani said Afghan officials' "first steps" have been taken to pursue peace initiatives and some contacts have taken place.
"I feel a tendency among the Taliban that there were and there are some people who have a message for the preparation of peace process. But it will take time until this develops into a practical reality and good news. We are now at the beginning of the avenue and we have more things in front of us."
Rabbani said he will ask NATO, which is leading the military effort in Afghanistan, to support the peace process. Its operation in Afghanistan is called the International Security Assistance Force.
Senior peace council member Mahsoom Stanikzai said NATO's cooperation is "something essential" and suggested that the military should stop operations in areas where talks would be helpful.
NATO Secretary-General Anders Fogh Rasmussen said that while the military operations should continue, the political process should be Afghan-led.

Video: Battling Afghan counter-insurgency
"I believe the best way to facilitation, reconciliation and reintegration is to keep up military pressure on Taliban," Rasmussen told reporters on Thursday.
Rabbani says Taliban members have suggested tough conditions for talks and he is hopeful this "demonstrates that they also want negotiations to take place and that they have something to say."
Rabbani said there had been stages in Afghanistan where the government and the international community were not frequently talking about peace.
But he said he thinks that a view has emerged that "war cannot solve the problem of this country," a position that "has turned into a fact today."
"Considering this, everyone is convinced today that the issue should be solved through negotiations and political ways."
He said the government also has conditions and principles for talks. One is that the existence of the Afghan constitution cannot be negotiated, even though he said he's not against talk on modifying parts of the document.
Meanwhile, the Taliban says reports that its members have held talks with the Afghan government are "futile claims" and "baseless propaganda."
"It is a part and parcel of a regular psychological warfare of the enemy," the Islamic Emirate of Afghanistan said in a statement on Wednesday.
"We would like to make it clear that the stance of the Islamic Emirate is unequivocal and final regarding the negotiation -- that is, holding negotiation with the enemy in conditions of their military presence in Afghanistan, is a waste of time."
The group cites comments made by Afghan President Hamid Karzai on CNN that unofficial talks with the Taliban have been taking place and other similar reports.
Karzai told CNN's "Larry King Live" that "we have been talking to the Taliban as countryman to countryman, talk in that manner."
In an interview aired Monday night, he said the talks are "not as a regular official contact with the Taliban with a fixed address, but rather unofficial personal contacts have been going on for quite some time."
The Taliban statement says it won't "accept any kind of negotiation or cease-fire" unless the "invaders" pull out of the country.
"The enemy has never contacted the leaders of the Islamic Emirate, let alone holding any kind of talks with them. Nor any effort has been made by the enemy directly or indirectly to initiate contacts with the leadership of the Islamic Emirate of Afghanistan."
It says any "minuscule numbers" of former Taliban officials who've surrendered or were detained don't represent the group.
The statement also calls the Afghanistan government's peace council "a contemplated endeavor" to distract attention and mislead Afghans.
CNN's Matiullah Mati and Najibullah Sharifi contributed to this report
FOLLOW THIS TOPIC