New Zealand DJ sorry for 'fat Indian' insult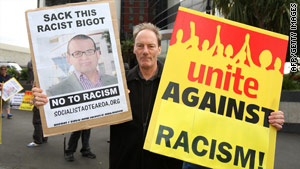 Protesters have been calling for DJ Michael Laws to be dismissed.
STORY HIGHLIGHTS
The broadcaster's remarks are the second controversy in a week
Indian lodged a furious diplomatic protest over comments by Paul Henry, who resigned from TVNZ
Henry said he was "astonished and dismayed"to have created a diplomatic incident
(CNN) -- A New Zealand DJ apologized Monday for calling the country's governor general a "fat Indian," saying the remarks were "upon reflection, uncharitable and inappropriate."
Michael Laws said he reserved "the right to be controversial and outspoken... But my off-air comments, in particular, crossed the line from puckish to insulting."
His apology comes on the heels of the resignation of New Zealand news personality Paul Henry, who resigned Sunday from TVNZ after he made remarks that prompted a furious diplomatic protest from India.
Henry said in a statement Sunday that he was "astonished and dismayed" that his remarks had "created a diplomatic incident," but that he did not "want to continue to be used as a lightning rod for racial disharmony in this country."
Henry is reported to have made fun of the name of Delhi Chief Minister Sheila Dikshit.
India "strongly and unequivocally" denounced the remarks as racist, bigoted, and totally unacceptable.
New Zealand's envoy to India expressed the country's "deep regret for the hurt caused," India's Ministry of External Affairs said last week.
Michael Laws, meanwhile, said he is scheduled to return to his RadioLive show on Wednesday.
He said he was sorry for his "comments about the Governor General and his physique."
Sir Anand Satyanand, the governor general, is the official representative of Queen Elizabeth II, New Zealand's titular head of state. He was born in New Zealand and is of Indian-Fijian descent, his official biography says.