8 private security firms banned in Afghanistan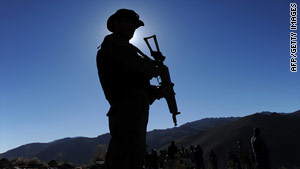 Before Sunday's announcement, there were 52 registered private security companies in Afghanistan.
STORY HIGHLIGHTS
The government announces ban against eight private security firms
This follows a decree last month to disband all such firms in the country
Among those dissolving operations is Xe, formerly known as Blackwater
NCL denies being banned, and Afghan interior spokesman concurs
(CNN) -- Afghanistan has banned eight private security firms, including the company formerly known as Blackwater, a spokesman for President Hamid Karzai told reporters Sunday.
Among the companies whose operations are being dissolved are Xe (formerly known as Blackwater), NCL, FHI, White Eagles and other small companies, spokesman Waheed Omer said. Both international and domestic companies were affected.
Weapons and ammunition belonging to these companies have been seized, he said.
NCL, however, denied that the company was among those banned.
"Contrary to a recent news report, NCL remains in good standing with the government of Afghanistan and has not been banned from operating there," a statement from the company said. " ... As the situation in Afghanistan changes, NCL will continue to work closely with the U.S. government, ISAF and the government of Afghanistan to ensure that it abides by all laws and requirements. When it comes time for private companies to cease from providing security services in Afghanistan, NCL intends to comply fully."
Zmary Bashari, spokesman for the Afghan Interior Ministery, agreed that NCL was not banned but said the company had to surrender some of its weapons. CNN has been unable to reach Omer for further clarification.
Xe has several operations in Afghanistan, some of which will not be immediately affected by the decision. While Xe's transportation and highway security operations have stopped, it will continue to offer security for embassies.
"Until we have Afghan security forces up and running, private security companies will continue to operate and serve in training and protection of foreign embassies," Omer said.
Of the eight companies named during the press conference, some have already disbanded, while others are in the process of doing so, Omer said.
Before Sunday's announcement, there were 52 registered private security companies in Afghanistan, half of them international, according to the interior ministry. Now there are 44 private security companies operating in the country.
Afghan President Hamid Karzai issued a decree last month disbanding all private security firms within four months.
"In order to protect Afghan life and property, avoid corruption, security irregularities and the misuse of military weapons, ammunition and uniforms by the private security companies which have caused tragic incidents, and after the required assessment, I approve shutting down all private security companies within four months, including both domestic and foreign," Karzai's decree said.
CNN's Mati Matiullah and Samson Desta contributed to this report.
FOLLOW THIS TOPIC