Former Sri Lankan army chief sentenced to prison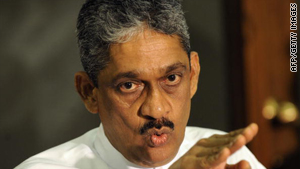 Sarath Fonseka addresses media representatives at parliament in Colombo on September 8, 2010.
STORY HIGHLIGHTS
Sarath Fonseka still faces at least three other trials
Fonseka was once called the best army commander in the world by Sri Lanka's president
Fonseka was convicted on corruption charges
Colombo, Sri Lanka (CNN) -- Sarath Fonseka, Sri Lanka's former armed forces chief, was sentenced to two and a half years imprisonment for "disgraceful conduct" in military procurements Thursday, officials said.
Fonseka, who led troops to defeat Tamil Tiger rebels last year, was to be moved from the Navy headquarters, where he was detained, to the Welikade Prison in Colombo.
President Mahinda Rajapaksa, who returned to Colombo after attending the United Nations sessions in New York, issued a proclamation upholding the findings by a court martial that Fonseka was guilty on four counts of violating military procurement procedures.
The court martial said Fonseka had "committed a fraudulent act" by not disclosing that his son-in-law Danuna Tillekeratne "had an interest or concern" in a local company that supplied the army with day vision binoculars, maintenance free batteries, power generators and very high frequency direction finders.
In August, the court martial had recommended that Fonseka, be stripped of all his ranks, titles, decorations and medals. His monthly pension was also withdrawn.
Fonseka must still go to civil courts that are hearing at least three more cases against him.
One involves statements printed in a local Sunday newspaper where he allegedly said that the Army was ordered to shoot civilians who surrendered with white flags during the separatist war that ended in In May 2009. Fonseka, however, has denied making the statement. If found guilty, he may face life imprisonment over the charges.
Another case relates to allegations that he employed Army deserters.
The verdict has sealed a major fall from grace for Fonseka who once was called the "best Army commander in the world," by Sri Lanka's president.
Relations between Rajapaksa, the president, and Fonseka soured after the former army commander challenged Rajapaksa in the January presidential elections.
Rajapaksa defeated him convincingly.
FOLLOW THIS TOPIC