U.S. official: CIA steps up missile strikes in Pakistan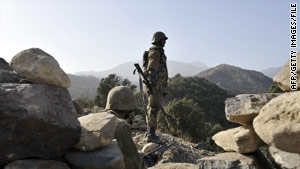 The region of Pakistan that borders Afghanistan has been the target of U.S. drone attacks against militants.
STORY HIGHLIGHTS
The official says the increase in drone strikes are based on precise intelligence
The objective is to disrupt terrorist plots, the official says
More drone strikes have taken place this month than ever before, a CNN count finds
(CNN) -- The CIA has stepped up missile strikes in Pakistan, and the uptick in drone attacks is based on precise intelligence, a U.S. official said.
"Our operational tempo has been up for a while now," the official, who did not want to be named, told CNN Monday. "We have good information driving it, and given the stakes involved, we hope to keep the pressure on as long as we can."
According to the official, the mix of threats remains the same. They come from groups like the Haqqanis, al Qaeda, the Afghan Taliban and the Pakistan Taliban. The threats they pose are "all deadly," the official said.
"The whole point of all this is to disrupt terrorist plots at whatever stage and wherever those plots may be focused," the official said.
The United States does not officially comment on suspected drone strikes. But it is the only country in the region known to have the ability to launch missiles from drones -- which are controlled remotely.
As of Monday, Pakistan's volatile tribal region bordering Afghanistan has been targeted by drones 65 times, according to a CNN count. September has seen more attacks than any other month since the unmanned aerial strikes began.
The majority of the strikes this year have hit targets in North Waziristan, one of seven districts in the tribal region.
In June, the U.N.'s senior official for extrajudicial executions, Philip Alston, said the United States should explain the legal rationale for the CIA's campaign of drone strikes in northwest Pakistan, which he characterized as "a vaguely defined license to kill" that has created "a major accountability vacuum."
Alston also urged the Obama administration to disclose the number of civilians killed in the drone strikes.
The civilian death toll has angered Pakistanis, less than a tenth of whom support the strikes, said Peter Bergen, CNN's national security analyst.
According to a count kept by New America Foundation, a Washington-based think tank where Bergen is a fellow, the drones program in Pakistan has reportedly killed more than 1,000 people since 2004.
FOLLOW THIS TOPIC