U.N. chief to Myanmar: Free political prisoners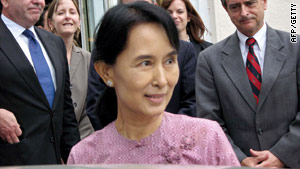 Nobel Peace Prize laureate Aung San Suu Kyi
STORY HIGHLIGHTS
Myanmar's military regime has announced elections in November
The polling will be the country's first in 20 years
Critics say the elections aim to create a facade of democracy
Burma has been under military rule since 1962
(CNN) -- Myanmar needs to show the world its November 7 elections are credible by releasing Nobel Peace Prize Laureate Aung San Suu Kyi and all other political prisoners, said U.N. Secretary-General Ban Ki-moon.
The country is at a critical stage as it attempts to transition to stability and development, Ban said while meeting Monday in New York with foreign ministers who form the Group of Friends of Myanmar.
Myanmar's military regime last month announced the date of the country's first election in 20 years. The nation formerly known as Burma has been under military rule since 1962. Critics say the coming elections aim to create a facade of democracy.
The months leading up to the elections will be critical, Ban said. He urged authorities to ensure that the vote is as inclusive and transparent as possible.
Next month's meeting of the Association of Southeast Asian Nations (ASEAN) in Vietnam will offer another opportunity to continue a dialogue with Myanmar's leadership, Ban said.
The Group of Friends includes more than a dozen nations and regional blocs that Ban first convened in 2007 after Myanmar's deadly crackdown on protesters. At least nine people were killed, though dissidents put the number far higher. The military junta also acknowledged that more than 2,900 people were detained.

Video: A look into Myanmar
Opposition leader Suu Kyi has spent more than 14 of the past 20 years under house arrest. She was first placed under house arrest in 1989. Her National League for Democracy party won a landslide victory in 1990, but the military junta had refused to recognize it.
Suu Kyi is barred from participating in the upcoming election under a new election law that excludes any member of a political party convicted in court.
Her supporters have said the conviction was a way to remove her from the election campaign and have decided to boycott the race, but some members have chosen to form a new party, the National Democratic Force.
FOLLOW THIS TOPIC