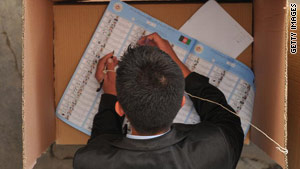 A watchdog group praised voter participation and security, but cited electoral violations and irregularities.
STORY HIGHLIGHTS
Insecurity and logistical failures cited
Voters praised for braving violence
There were fewer female voters
Kabul, Afghanistan (CNN) -- An independent watchdog group says it has "serious concerns about the quality" of the Afghan parliamentary elections last weekend, citing "electoral violations and irregularities" and security problems that forced polling centers to close.
A preliminary report by the Free and Fair Election Foundation of Afghanistan, Tuesday praised voter participation and security arrangements.
"However, regrettably, a large segment of the electorate was disenfranchised by insecurity and logistical failures," said the group, also known as FEFA.
FEFA said it observed voting and counting with nearly 7,000 observers at about 60 percent of polling stations in 3,538 polling centers on Saturday.
The report said millions of Afghans cast ballots bravely "against the backdrop of a violent campaign season," and the observers reported 276 security incidents at and near polling places.
"Taliban blew up polling centers in Kunar, Khost and Kandahar and captured centers in Badghis, Baghlan, Kunduz and Laghman, shutting down voting in the communities those centers served. Rocket attacks against polling centers in populated areas of Nangarhar and Kunar killed several civilians and sent other fleeing for their lives. In Badghis, Balkh, and Logar, Taliban kidnapped election workers and observers. Some -- the exact number is unknown -- are still being held, and the bodies of three abducted IEC staff from Balkh were found on September 19," the report said.
In some areas, gunmen disrupted voting and seized ballot boxes, and observers themselves were threatened.
"Four FEFA observers were assaulted on Election Day by candidate agents and powerbrokers in Daikundi, Farah, Kandahar, Ghazni and Takhar. Two others were kidnapped by Taliban," the report said.
On Saturday night, the IEC announced it recorded a 40 percent turnout, with 3.6 million votes cast out of a total of 9.2 million eligible voters.
But in the widely criticized presidential elections of August 2009, the IEC reported 11.4 million eligible voters.
And the commission's website reports a total of 16.7 million voters have been registered in Afghanistan since 2003.
Despite praise from U.N. Secretary-General Ban Ki-moon, Gen. David Petraeus, the top U.S. military commander in Afghanistan, and Afghan President Hamid Karzai regarding Saturday's balloting, the statistics suggest a dismal turnout, with nearly a million fewer votes cast than in the national election a year ago.
The IEC reported nearly 4.6 million valid ballots cast last year.
The report said the south and the southeast -- where conflict is most intense -- had "the worst voter turnout." However, there were pockets of high voter turnout in some insecure areas. In volatile Helmand province, the turnout was greater than anticipated, particularly in the provincial center.
"Turnout in the rest of the country was low generally but higher in administrative centers, where security forces were most concentrated, than in the rural areas where insurgents could stage more attacks on underprotected populations."
The country's central region and more secure provinces of the north and east had the highest voter turnout.
There were fewer female voters "though the ratios skewed most dramatically in the most insecure southern and southeastern provinces, such as Paktika, where many polling centers reported almost no women voters."
As for election violations and irregularities, observers reported "more than 300 instances of intimidation and coercion of voters, candidates, candidates' agents and observers by local powerbrokers" throughout the country. Most acts were carried out by people tied to illegal armed groups.
Ballot stuffing, proxy voting, underage voting, fake vote cards and repeat voting were reported.
"Obstructing observers was another means used to distort the vote outcome," the report said.
Noting that the election "was the first completely Afghan-run national election," FEFA said the Independent Election Commission "was under pressure to prove that it had carried out reforms recommended after the election administration body was found culpable in the widespread fraud of last year's elections."
The group said the IEC was able to open about 90 percent of polling stations but "still fell far short of carrying out its mandate professionally and impartially in many areas."
It cited late polling center openings, the absence of female staff, the lack of essential materials such as ballots, and a widespread failure to provide "indelible ink to mark voters' fingers.
In some polling centers, "the dark ink used to mark the fingers of voters and prevent repeat voting easily washed off. Washable ink was reported most extensively in Badakhshan, Balkh, Ghor, Herat, Kabul, Nimroz, Panjshir, Takhar, and Uruzgan."
There was delayed ballot counting in some areas, raising "ballot tampering fears among observers and candidates, as ballot boxes were stored overnight in unauthorized locations in many cases."
FEFA is urging "all state institutions, especially the president, to support the impartial and independent operation" of the Afghanistan's Electoral Complaints Commission and asks that the body refer serious "fraud, intimidation and violence cases to the proper judicial authorities."
It also urged the IEC "to fully cooperate with the ECC in investigations of fraud and coercion and to resist political pressure to announce the final results early without full verification of legitimate votes."