Three dead in accidents linked to Typhoon Fanapi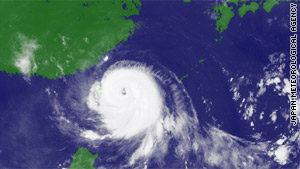 Typhoon Fanapi is scheduled to make landfall in eastern Taiwan early Sunday, Xinhua reports.
STORY HIGHLIGHTS
NEW: Fanapi makes landfall in eastern Taiwan
The dead are two junior-high school students and a 76-year-old woman
Schools in Taitung, Yilan and Hualien counties suspend classes
Nantou County evacuates some residents
(CNN) -- Three people died in accidents linked to Typhoon Fanapi's approach to Taiwan, where the storm made landfall Sunday morning, Taiwan's official news agency reported.
Early Saturday, a 76-year-old woman who was trying to harvest her crops before Fanapi's arrival apparently fell from a terraced hill into a river in Pingsi Township in Taipei County, the Central News Agency reported. She was found drowned.
Two junior-high school students in the northern county of Taoyuan died Saturday morning, CNA said.
They were among a group of seven students who were visiting the flooded Taoyuan Canal when a girl slipped off the bank in the rain, CNA said, citing police.
Three boys jumped into the water to rescue her. Only two of the would-be rescuers made it to safety; the other and the girl died, it said.
As of 5 a.m. Sunday (5 p.m. Saturday ET), Fanapi had strengthened with sustained winds of 121 mph (195 kph) and gusts of up to 149 mph (241 kph), according to the U.S. Navy's Joint Typhoon Warning Center.
According to CNN models, Taiwan can expect 3.1 inches (80 mm) to 9.8 inches (250 mm) of rain, with isolated amounts reaching close to 19.7 inches (500 mm) of rain in the coming 48 hours.
Schools in Taitung, Yilan and Hualien counties suspended classes as of Saturday night, and Nantou County evacuated some residents, China's state-run Xinhua News Agency said.
Taipei's Maokong gondola, a cable-car transport system, has halted operations, Xinhua said.
Tsengwen Reservoir, Taiwan's largest, began discharging water Saturday at noon so that it would be able to accommodate Fanapi's rains, the news agency reported.
TransAsia Airways, Mandarin Airlines and Uni Air canceled some Sunday flights and fishing boats in Taitung County returned to harbor, it said.
CNN's weather producer Judson Jones contributed to this story.