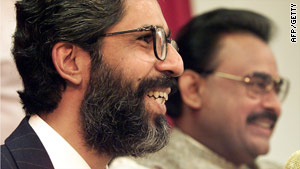 Imran Farooq (left), pictured here in London, 1999, suffered stab wounds and head injuries according to police.
STORY HIGHLIGHTS
Karachi is observing a 10-day mourning period
Imran Farooq, prominent in MQM party, was found in his apartment
Farooq, 50, had been stabbed and suffered head injuries, police said
MQM is part of Pakistan's coalition government
Islamabad, Pakistan (CNN) -- Violence erupted in the southern Pakistani city of Karachi on Friday, a day after a prominent politician was killed in England, police said.
Angry crowds set fire to six vehicles and a shop early Friday morning, said Rafiq Gul, a senior police official in Karachi. No casualties were reported.
Politician Imran Farooq of the Muttahida Quami Movement (MQM) was killed Thursday in London, a spokesman for his party told CNN. The MQM, one of the largest parties in Pakistan, is part of President Asif Ali Zardari's ruling coalition.
In Karachi, schools and shops were closed Friday while the city observed a 10-day mourning period. Heavy contingents of security forces were stationed at major intersections in the tense port city, where earlier in the summer, widespread violence claimed more than 80 lives.
Those political and ethnic clashes were triggered by the killing of another MQM politician, Syed Raza Haider, who was gunned down at a local mosque in August.
News of Farooq's killing was made public Thursday evening, said Mohammad Anwar, a member of the party's Central Coordination Committee.
He led the committee, which is the party's highest decision-making body, Anwar said from the party's London office. Farooq also led international relations and human-rights affairs for MQM.
He lived in northwest London, near the party's office in Green Lane, Edgware, Anwar said.
Police said they were called to Green Lane, Edgware, shortly before 5:30 p.m. after reports of a serious assault.
"On arrival, officers found an Asian man, aged 50, with stab wounds an head injuries," Metropolitan Police said in a statement. Paramedics treated him, but he was pronounced dead at 6:35 p.m., police said.
Police are awaiting formal identification, according to the statement. No arrests have yet been made.
Anwar said party leaders in Karachi learned of the news by speaking with Farooq's parents.
"It's very sad," Anwar said. "We thought in London he was safe, that no one could bring harm to any party members in London."
Farooq moved to London in September 1992 after concluding his "life and liberty were at risk back home," Anwar said.
The party was fighting the military, which has bankrupted the country, Anwar said, "because the ruling elite have fattened themselves and made the country poor as a result of rampant corruption."
MQM's Deputy Convenor Farooq Satar told reporters that party political activities would be suspended during the mourning period.
MQM is a part of coalition government led by Zardari's Pakistan People's Party in central and southern Sindh province. MQM is a liberal party with a stronghold in the southern city of Karachi.
CNN's Katy Byron and journalist Shad Khan contributed to this story.
FOLLOW THIS TOPIC