Japan's prime minister shakes up Cabinet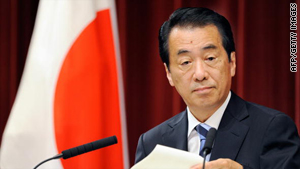 Japanese Prime Minister Naoto Kan at a press conference at his official residence in Tokyo on August 10.
STORY HIGHLIGHTS
Seiji Maehara appointed foreign minister, wants bigger role in national security
Earlier in the week, Kan won a landslide vote to lead his party
He kept several key Cabinet ministers unchanged and added a former critic
Tokyo, Japan (CNN) -- Japan's prime minister shuffled his Cabinet on Friday to consolidate his power base, following a landslide win earlier in the week to lead his party.
Prime Minister Naoto Kan kept several key Cabinet ministers unchanged. Finance Minister Yoshihiko Noda, Defense Minister Toshimi Kitazawa and Chief Cabinet Secretary Yoshito Sengoku stay in their posts.
Seiji Maehara, the former minister for land, infrastructure, transport and tourism, was appointed foreign minister. Maehara highly values Japan's alliance with the United States but also says Japan should play a bigger role in its national security.
Former Foreign Minister Katsuya Okada was appointed secretary general of the ruling Democratic Party of Japan, the No. 2 job.
Kan also appointed Banri Kaieda, a former critic of Kan's economic strategy, to minister of economic and financial service.
FOLLOW THIS TOPIC