Philippines: At least 10 might be charged in deadly bus rescue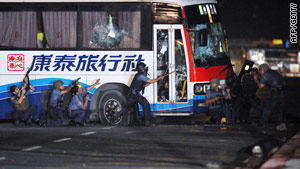 Manila police admit they may have shot hostages by mistake during the August 23 standoff.
STORY HIGHLIGHTS
The 10 might include police officers, a public official and a journalist
Eight tourists from Hong Kong and the hostage-taker were killed
An investigative committee is nearly done with its work
The Philippine president is to receive a report and recommendation
(CNN) -- At least 10 people might be charged in the fatally bungled rescue of tourists in a bus standoff last month in the Philippines, state-run media said Thursday.
Justice Secretary Leila De Lima refused to identify the people who might face charges, according to the Philippines News Agency. But they include officers of the Philippine National Police, at least one public official and at least one journalist, according to CNN partner ABS-CBN.
De Lima leads the committee that is investigating the botched operation on August 23, which resulted in the deaths of eight tourists from Hong Kong and the hostage taker. Another tourist was critically wounded and six others were hospitalized with less serious injuries.
He said testimony from five victims matched that of the bus driver, who escaped. The victims and the driver said the hostage-taker shot his victims at close range, De Lima said.

Video: Hostage survivors talk ordeal

Video: Tour bus hostage nightmare

Video: Hostage siege: What went wrong?
But last week, De Lima told reporters that there was a "big possibility" that some of the tourists had died in "friendly fire."
His committee was 95 percent finished with its investigation, De Lima said at a news conference Thursday. The panel was to meet later Thursday to finish its report and recommendation, then submit them to President Benigno Aquino.
The death of the tourists created a furor in Hong Kong, where people watched the botched operation unfold live on TV.
Former police officer Rolando Mendoza took the tourists hostage, but was initially willing to cooperate with authorities. Philippine authorities have blamed the live TV broadcasts for contributing to the deaths.
Mendoza was a decorated police officer, but his career spiraled downward when he was dismissed a year ago for extortion, Manila Vice Mayor Ikso Moreno said. He wanted his case reconsidered.
FOLLOW THIS TOPIC