STORY HIGHLIGHTS
Not clear when trial with start; trial chamber has four months to hold hearing

Four charged include former Khmer Rouge premier and deputy premier

More than 2,000 civil parties added to case

Decision follows July 26 conviction of former Khmer Rouge prison chief

(CNN) -- Four of the top former surviving Khmer Rouge cadre were charged with war crimes in Cambodia by a U.N.-backed war crimes tribunal for their role in the late 1970s genocide that left nearly one-quarter of the country's population dead, the court said Thursday.
The four also face charges of genocide, crimes against humanity and offences under the Cambodian Criminal Code 1956, including murder, torture and religious persecution.
The accused are Nuon Chea, acting prime minister under the Khmer Rouge, who also was known as Brother No. 2; Ieng Sary, the Khmer Rouge's deputy prime minister; Ieng Thirith, the regime's minister of social affairs and action; and Khieu Samphan, head of state.
"The charges are officially brought against the accused," co-investigating judge You Bunleng said at a news conference on the outskirts of Phnom Penh. The indictment was signed Wednesday.
It is not known when the trial will begin, but the trial chamber has four months to hold substantive hearings, You Bunleng said. He noted that more than 2,100 civil parties have been admitted to the case.
Victims of the Khmer Rouge welcomed the decision.
"It's good news, but it's about time," said Cambodian-American Theary Seng, chairwoman of the Center for Justice and Reconciliation. "It's just another signal to the larger public that the court is ... alive and kicking."
"It opens the door for the trial of the second case to move forward, and of course, this is the heart of the matter," she added.
Read more about the genocide and the tribunal in Cambodia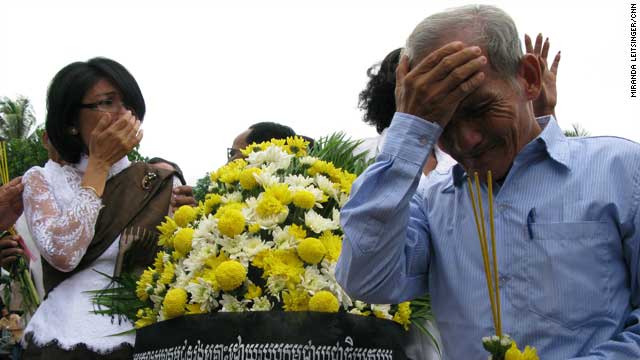 Gallery: Khmer Rouge victims

Video: Tracking Khmer Rouge killers

Video: Victims of Khmer Rouge speak out
The decision follows the July 26 conviction of the notorious chief of a torture prison, where more than 14,000 people died during the Khmer Rouge's reign from 1975-79 .
Kaing Guek Eav, also known as Duch, was convicted of war crimes, crimes against humanity, murder and torture. He was sentenced to 19 years by the tribunal, also known as the Extraordinary Chambers in the Courts of Cambodia.
Duch is appealing his sentence. His lawyers say he should be acquitted because he was "a witness of the events of the relevant period" and should be in witness protection.
His sentence sparked anger as word spread outside the courtroom. Some said it made them lose faith in the U.N.-backed war crimes tribunal.
Prosecutors are appealing Duch's sentence, saying the punishment was too light.
At least 1.7 million people died under the ultra-Maoist Khmer Rouge regime, from execution, disease, starvation and overwork, according to the Documentation Center of Cambodia.
An estimated 800,000 of those were violent deaths, You Bunleng said.
Duch's verdict was the first for the tribunal, which began its work in 2007 after a decade of on-and-off negotiations between the United Nations and Cambodia over the structure and functioning of the court.