Yao Ming's make or break season
STORY HIGHLIGHTS
Yao Ming is China's most celebrated athlete
He represented his country at the 2008 and 2004 Olympic Games
Ming missed last season with serious injury; many questioned his ability to play again
He says he is focused playing a full, injury-free season
(CNN) -- A colossus on and off the basketball court, Yao Ming is China's biggest sports star.
Yet despite eight seasons in the NBA and his stature in China, the 30-year-old player is about the face the most challenging year of his professional life.
After missing the whole of the 2009/2010 season with a serious foot injury, the Houston Rockets player is facing up to a year that could define the rest of his career.
"This coming season is my key season. I've missed a whole year and I have a serious injury history and that would put me at risk and also whatever team I play for ... the team will have a risk to take me also. I mean that's the truth, we can't get around that," he told CNN.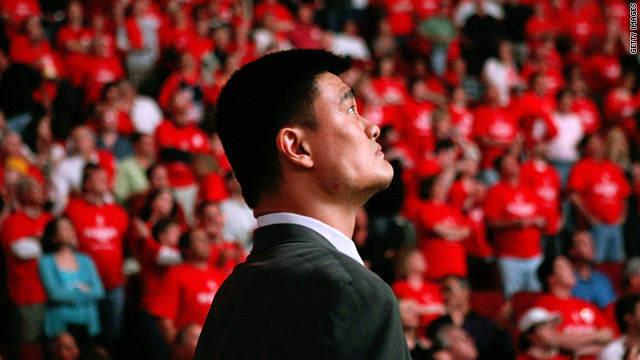 Gallery: Yao Ming: Reaching the heights

Video: Could Yao Ming turn to coaching?
This coming season is my key season. The team will take a risk to take me.
--Yao Ming, basketball player
"I think the first goal I've made is to play healthy through the season. Of course, and then show people how good I can be, hopefully still be as good as before."
He's reluctant to even entertain the thought of retirement, and he describes being written off by basketball commentators after he picked up his foot injury in the summer of 2009 as "shocking."
"You play this game almost 20 years, since I was nine. And one day ... well, everybody knows that your career is going to end someday, I'm just not ready for that day yet.
"Maybe I'm 24 or 25 and I know my body is kind of like going down every year and I know it's about time but the day I know that I have a [potentially] career-ending strain [and it's] almost like the best time in my career ... that's really difficult for me," he said.
He does remain positive about his life off-court during his enforced sabbatical.
He recently became a father when his wife, Ye Li, a former Chinese national team volleyball player gave birth to a baby girl in May 2010. Yao also continues to work with the Yao Ming Foundation building schools in earthquake-affected regions in Sichuan and other provinces in China.
Hard work and patience have been his bywords for the past few years and he admits that shouldering the expectations of a nation in the NBA and during Olympic Games, has not always been easy.
"It is difficult. I would say it's more difficult back 30 years ago. The other side is much better now. I think you know that the Chinese sports system is a little bit different. Every athlete, their training and education must be supported by the government," he said.
On the subject of future Chinese sports stars to take his place, he remains typically circumspect.
"It's a very big question and it's not that easy to answer that. This is not about how are you going to change the program of training players. It's about our entire system. We have a lot of problems we need to fix. This is from the league, from the national team, from how we motivate those kids."
FOLLOW THIS TOPIC