Officials: Pakistani police targeted in deadly attacks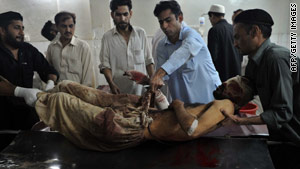 Volunteers help shift an injured man Tuesday at a Peshawar, Pakistan, hospital after a car bomb attack in Kohat.
STORY HIGHLIGHTS
NEW: A police van hit by improvised explosive device, injuring four police officers
Local government official says at least 20 people were killed in the explosion
The blast apparently targeted police barracks
The explosion follows a Monday suicide attack that killed 17
Islamabad, Pakistan (CNN) -- Pakistani police were targeted in two separate attacks Tuesday in the country's northwestern province of Khyber Pakhtunkhwa, officials said, leaving 20 dead and as many as 98 wounded.
At least 20 people -- including nine women and six children -- died when a remotely controlled car bomb exploded, a Kohat district government official said. The bomb was made up of an estimated 200 kilograms (441 pounds) of explosives, Khalid Khan Umarzai told CNN.
At least 94 others were injured in the blast, he said, and at least 25 buildings in the compound were damaged.
Hours later, four police officers were wounded when an improvised explosive device went off near their van in Hangu district, Umarzai said.
Earlier Tuesday, a Taliban spokesman announced that the group was responsible for a suicide attack Monday targeting a police station in Lakki Marwat district in the North West Frontier Province that left 17 dead.
Pakistani Taliban spokesman Ihsan Ullah Ihsan said Tuesday that Pakistani law enforcement agencies, as well as U.S. forces, were enemies of the Taliban.
Police said nine of the dead in that attack were police and eight were civilians. Jameel Khan, a senior police official in the district, said that a suicide bomber in an explosive-laden vehicle hit a police building.
At least 40 others were wounded in the explosion, the latest in a series of suicide attacks in the country in less than a week.
On Friday, at least 73 people were killed and 206 people wounded in a suicide attack in southwestern Pakistan.
Journalist Nasir Habib contributed to this report.
FOLLOW THIS TOPIC