Freed Japanese journalist says Taliban didn't kidnap him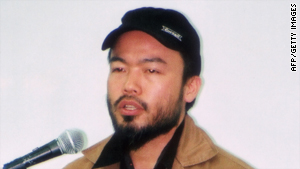 Kosuke Tsuneoka in a handout photo taken February 2003 and released by Amnesty International on April 5, 2010.
STORY HIGHLIGHTS
The Japanese journalist says corrupt Afghan soldiers abducted him
Kosuke Tsuneoka posted his statements on his Twitter account
He says his abductors pretended to be Taliban members
Tsuneoka was kidnapped in March and released Saturday
Tokyo, Japan (CNN) -- A Japanese freelance journalist who was kidnapped for five months in Afghanistan and released Saturday says his kidnappers weren't members of the Taliban, but corrupt Afghan soldiers.
Kosuke Tsuneoka, 41, posted a message to his Twitter account on his arrival at the airport in Dubai, United Arab Emirates, on Monday. He was on his way back to Japan from Afghanistan, which he left on Sunday, according to Japan's Foreign Ministry. Tsuneoka was kidnapped in late March.
"They were corrupt military factions that blackmailed the Japanese government by pretending they were Taliban," Tsuneoka posted in Japanese on his Twitter account.
His message revealed the name of the commander in Kunduz and the factions in Takhar province that kidnapped him.

Video: Talking with the Taliban
However, the Japanese Embassy in Kabul said the kidnappers' affiliations were still unclear.
Tsuneoka said in a separate message on his Twitter account that he was prepared for death. He added that he survived because, though the group's ranking officials were corrupt, they could not justify killing him to lower-ranking soldiers and civilians in the region. He called the lower-ranking soldiers and civilians proper people.
"The Japanese government and the family of the kidnap victim did not pay a ransom to the culprits," Japanese Chief Cabinet Secretary Yoshito Sengoku, said Monday at a news conference. It was not clear what led to Tsuneoka's release.
Dozens of foreigners have been kidnapped in Afghanistan since the United States and its allies invaded in 2001 to unseat the Taliban government. Journalists have been prime targets.
FOLLOW THIS TOPIC