STORY HIGHLIGHTS
NEW: The government has tallied nearly 5,000 claims for damaged properties
NEW: Government: Ongoing "likelihood of aftershocks of up to around Magnitude 6"
Christchurch's main business district is under a 12-hour curfew
Authorities are warning residents to boil their water before drinking
Share images and information with CNN iReport.
(CNN) -- New Zealand's Christchurch and the surrounding Canterbury region continued to grapple Monday with the effects of a powerful earthquake that left buildings in ruins and people scrambling for shelter two days earlier.
The government has tallied nearly 5,000 claims for damaged properties, while area residents are being asked to boil water and schools are closed for at least two days, authorities said Monday.
The New Zealand Earthquake Commission has received 4,857 claims for damage to residential properties, the Ministry of Civil Defence and Emergency Management said, and is "expecting a significant increase in claims over the next couple of days."
Residents of Christchurch and surrounding areas have been told to boil water because sewage lines may be broken or leaking underground, allowing contaminated water to enter the drinking system.
"Health concerns have shifted to public health issues related to water supply," the Ministry of Civil Defence and Emergency Management said in a statement Monday.
Christchurch's main business district was put under a 12-hour curfew overnight curfew with police cordoning off the area to deter looters.

Video: New Zealand quake cost $1 billion

Video: Aftershocks rattle New Zealand

Video: Baby born during earthquake

Video: Scammers cash in on quake
Power has been restored to 95 per cent of the area, the government said Monday, but added that "damage is greater than initially thought and restoration times are being extended (two to three days)."
The Civil Defence Ministry said that "an extensive number of aftershocks" with a magnitude of up to 5.4 have hit the area since Saturday's 7.1 quake, and that the "likelihood of aftershocks of up to around Magnitude 6 will remain for the next week."
The earthquake struck at 4:35 a.m. Saturday (12:35 p.m. ET Friday), when few people would have been out and about. Police said there was some initial looting activity, but it was quickly brought under control.
Roughly 100 people were being treated for minor bumps and cuts after the strong quake, hospital officials said. Two people suffered more serious injuries.
No deaths were immediately reported.
The Christchurch Civil Defense Agency called on people to put off all nonessential travel to the area while aftershocks continued to shiver through the land.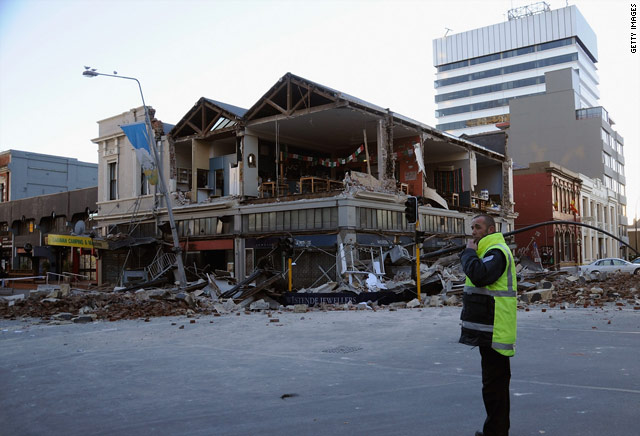 Gallery: New Zealand earthquake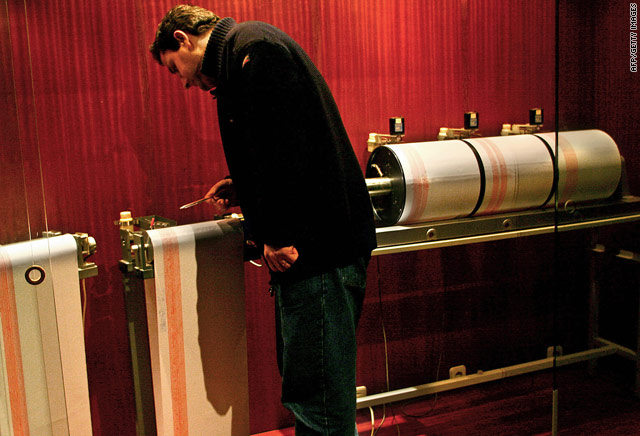 Measuring earthquakes
TVNZ reporter Max Bania described a city and people still in shock from the powerful quake, and shaken by continuing aftershocks.
He told CNN that residents described feeling like they were being thrown into a cement mixer during the magnitude 7.0 quake.
"The house felt like it was on wheels, like it was rolling around on marbles," resident Hadlee Wright told CNN's Rick Sanchez.
Pictures that Wright took of the city before daybreak showed collapsed buildings and streets littered with bits of brick and rock. The facade of one structure was almost entirely torn off.
The Christchurch City Council declared a state of emergency in response to what it called "significant damage," just hours after the earthquake.
The order allows authorities to force evacuations and prohibit entry into areas believed unsafe. Officials in Selwyn, a rural district near where the quake region, also declared a state of local emergency.
TVNZ reported that the government expects damage to run into the hundreds of millions in rural Canterbury alone.
CNN's Brian Walker contributed to this report
FOLLOW THIS TOPIC