Report: Kim Jong Il thought to be wrapping up China trip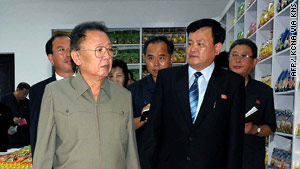 Undated photo of Kim Jong-Il (left) at a Pyongyang factory. Source: N. Korea's official Korean Central News Agency August 26.
STORY HIGHLIGHTS
NEW: Kim spends third day in China before reportedly heading to train station
Kim's visit coincides with former President Carter's trip to North Korea
Carter secures the release of an imprisoned American
(CNN) -- North Korean leader Kim Jong-Il was believed to be finishing up his trip to China on Saturday, a day after he was thought to have met with Chinese President Hu Jintao, South Korea's official news agency reported.
On Saturday morning, a caravan of roughly 20 limousines believed to be carrying Kim was seen leaving a hotel in Changchun in northeast China, where Kim is thought to have met with Hu, according to the Yonhap News Agency.
The caravan was believed to be heading to Changchun's rail station, where Kim's special train was reportedly waiting, Yonhap said.
Reports from multiple news sources indicated that Kim arrived in China on Thursday, though neither China nor North Korea has confirmed the trip.
Kim's visit coincided with former U.S. President Jimmy Carter's trip to North Korea, during which Carter secured the release of a U.S. citizen who had been sentenced to eight years of hard labor for crossing over the Chinese border into North Korea.
That man, Aijalon Mahli Gomes, arrived home Friday afternoon in Boston, Massachusetts with Carter.
Carter, who arrived in North Korea on Wednesday, did not make any comments about his trip, which was shrouded in speculation over whether he would meet with Kim.
"At the request of President Carter, and for humanitarian purposes, Mr. Gomes was granted amnesty by the chairman of the National Defense Commission, Kim Jong Il," said a statement from the Carter Center in Atlanta, Georgia.
Kim's trip is seen as related to his anticipated handover of power to his son, Kim Jong-un, according to Yonhap.
Kim spent five days in China in May and had a summit with the Chinese president.
FOLLOW THIS TOPIC