STORY HIGHLIGHTS
NEW: U.S. officials obtained information about threats to aid workers
Pakistani officials urge 500,000 people in Sindh province to evacuate
Pakistan orders fresh evacuations in Indus River delta
Rajiv Shah, the top U.S. aid official, visits flood areas
See high-resolution images of the Pakistan flooding. And tell iReport how you've been affected by the floods.
Islamabad, Pakistan (CNN) -- Pakistan's government has warned about 500,000 people in the country's southeastern Sindh province they should evacuate immediately because of possible flooding, government officials said Thursday.
Residents of three major towns -- Sujawal, Mirpur Bathoro and Daro -- and their surrounding villages have been urged to evacuate as soon as they can to avoid possible flooding.
The warning was issued after a breach in one of the embankments caused by rising water levels in the Indus River, said Ali Gul Sanjrani, a senior government official in Thatha district.
Adding to the problem: a forecast of rain for all of Pakistan's four provinces over the next 24 hours. Thousands remain at risk in the flood-ravaged nation.
Sirens blared Thursday from mosques in Indus River delta cities and towns like Shahdadkot where remaining berms and levees holding back water were about to burst.

Video: Diseases new threat for Pakistan

Video: U.S. helping Pakistan flood victims

Video: Floods lead to crisis in Pakistan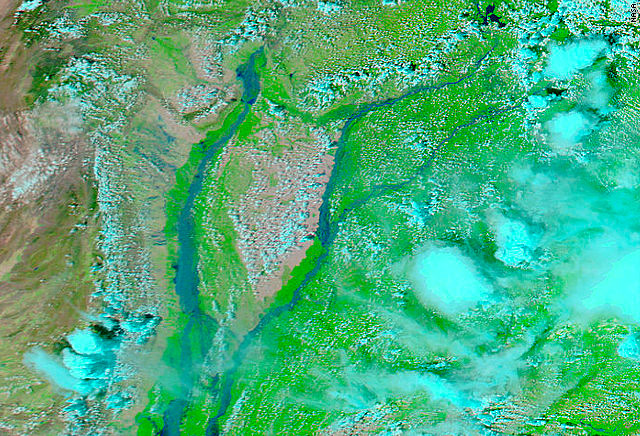 Pakistan flood: Before and after
Floodwaters have started to recede across Pakistan, but in the Indus delta, the potential for more flooding remained high, especially given high tides in the Arabian Sea, where the Indus spills out.
Already, 17 million Pakistanis -- from the Chinese border in the north to the mouth of the Indus in the south -- have been affected by the monsoon floods that began a month ago.
Many refugees have sought shelter at relief camps, where food and drinking water are now available. But every day, there are new camp arrivals -- people who were already poor, who now have nothing.
The damage from Pakistan's worst humanitarian catastrophe is sure to hurtle the impoverished nation back in terms of development. This week, America's top aid official saw firsthand the dire needs in Pakistan.
Dr. Rajiv Shah, administrator for the U.S. Agency for International Development, said he was deeply moved by his visit to Sukkur and that aid agencies were "scaling up their response efforts as quickly as they possibly can."
Shah announced the United States would be diverting another $50 million for flood relief from the Kerry-Lugar act, which allocated $7.5 billion in nonmilitary assistance to Pakistan over five years.
"We know that we can use resources that are effective and efficient, and we know that if we do that right now we will save lives and prevent disease," Shah said. "That's what our humanitarian and moral mission is."
The mission for America is a complicated one in Pakistan, where nearly six out of 10 Pakistanis view Washington as an enemy, and militants routinely launch deadly attacks against the population. Even as U.S. aid pours in for flood victims, unmanned U.S. drone strikes continue in the volatile northern regions.
Foreign aid workers in Pakistan are keenly aware of the dangers of working in a country that is the focus of America's fight against terrorism and where deliberate attacks against humanitarians have occurred in the past.
U.S. government officials have obtained information about threats against foreign aid workers in Pakistan, State Department spokesman P.J. Crowley told reporters Thursday.
But Maurizio Giuliano, spokesman for the U.N. Office for the Coordination of Humanitarian Affairs, said aid workers are moving forward under the assumption that no one would want that bring a halt to relief operations.
"We have no reason to fear that this will happen during this relief operation, and we would find it inhumane for someone to target us and our work, effectively harming the millions of people whose life we strive to save," Giuliano said. "Our agenda is a global one, which should unite all humanity to save lives."
There has also been concern in Pakistan that charities run by Islamists could make popular gains during the current crisis.
An official with Falah-e-Insaniyat, a group widely believed to be the charity wing of a Pakistani terrorist group, said Shah, the USAID administrator, visited a camp the group was running.
Kuaateeb Ullah, Falah-e-Insaniyat's leader in Sukkur, said the charity is running five camps in the Sindhi city and providing food and medicine to 3,500 flood survivors. He told CNN that Jumaat Ud Dawa, banned by the United Nations and the Pakistani government as a terrorist organization, was helping fund the relief missions.
Aid -- from any source -- in the midst of a tragedy of such epic proportions is difficult for the desperate to reject. Shah reminded the Pakistani people that America stood behind them.
"As you begin to recover from this disaster, America, including the United States Agency for International Development and all of the other parts of our government, stand with you," he said. "We believe in the moral calling of saving lives when it is possible to do so and we are fully committed to this effort. "
To date, Pakistan's unfolding tragedy has claimed 1,600 lives, according to the National Disaster Management Authority. That number is likely to rise, as more drowned bodies are discovered in receding waters.
CNN's Sara Sidner, Moni Basu and journalist Nasir Habib contributed to this report.
FOLLOW THIS TOPIC