Australian croc isn't chicken to pick next prime minister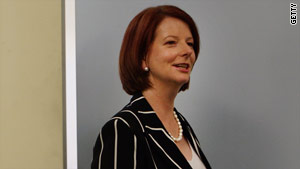 Incumbent Australian PM Julia Gillard will win the election according to Harry the salt-water crocodile.
STORY HIGHLIGHTS
Clairvoyant crocodile makes pick for next PM of Australia
Harry has a successful string of picks in World Cup matches
Incumbent Prime Minister Julia Gillard is Harry's choice
(CNN) -- An intuitive crocodile on Australia's northern coast is taking a bite out of the country's hotly contested national election by making his pick for prime minister.
The psychic salt-water croc -- named Harry -- who correctly picked World Cup champion Spain to win this year's tournament in South Africa, has now thrown his considerable weight behind incumbent Prime Minister Julia Gillard.
His methods are unorthodox, especially compared with the button-downed academics of pollsters who are working feverishly to predict this ballot vote.
"We suspended a piece of chicken from each of the pictures of Gillard and Abbott after he had been put into his feeding position," Sallie Gregory, an employee of Darwin's Crocosaurus Cove tourist attraction, told CNN from Darwin City, the capital of Australia's Northern Territory.

Video: 'Psychic' croc tips PM Gillard to win
"It took him five or six minutes to pick one ... then he took a couple of go's at Gillard before finally going for the chicken under Gillard," she said.
The croc weighs more than 700 kilos (1,500 pounds) and extends nearly 5 meters (16.4 feet). Harry's not saying, but his keepers believe he's between 45 and 50 years old.
Gregory said they got the idea after hearing about the German octopus, 'Paul,' who correctly picked eight World Cup matches, including the final.
"The local paper here did a big feature on it," she said. "So, we thought the crocodiles might enjoy doing something different as well."
Gregory said Harry was born in the wild, but has been making his home at the Darwin facility the last few years.
FOLLOW THIS TOPIC