U.S., South Korea to conduct anti-submarine warfare exercises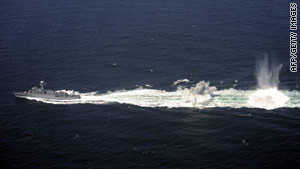 A South Korean destroyer conducts exercises off the Korean Penninsula earlier this month.
STORY HIGHLIGHTS
The United States and South Korea have been conducting military exercises
Tensions have escalated over the sinking of a South Korean ship
A report in May blamed that sinking on North Korea; North Korea denied it
New U.S.-South Korea exercises will focus on anti-submarine warfare
Washington (CNN) -- The United States and South Korean navies will begin a joint exercise off the western coast of the Korean peninsula in response to North Korea's alleged sinking of a South Korean warship last March.
South Korea maintains the Cheonan was sunk by a North Korean submarine.
"Following the Gates/Clinton meetings of their South Korean counterparts in Seoul last month, we said that we would continue a series of exercises that are defensive in nature, that are designed to send a clear message to North Korea," Pentagon spokesman Bryan Whitman said, referring to meetings by Defense Secretary Robert Gates and Secretary of State Hillary Clinton
"The next exercise in that series will focus on the anti-submarine warfare tactics, techniques and procedures," Whitman said Wednesday.
The anti-submarine warfare exercises will take place in early September in international waters in the Yellow Sea.
The Defense Department said recently that the aircraft carrier USS George Washington and its support ships would take part in the exercises, but Whitman said Wednesday it's unclear what U.S. Navy ships would be involved.
"The exercise is still very much in the planning stage so I can't really provide any more details than that," Whitman said.
Tensions between North Korea and South Korea, as well as between North Korea and the U.S., have escalated since a May report from Seoul, South Korea, blamed the North for the sinking of a South Korean warship in March.
The report, whose findings have been endorsed by the U.S., alleged that a North Korean sub sank the ship, the Cheonan, with a torpedo, killing 46 sailors. North Korea denies it sunk the ship.
"This exercise was part of the discussion after the Cheonan, investigation results were completed, in which we said we were going to increase our military-to-military exercises with the Republic of Korea. And that we were going to do some antisubmarine warfare exercises, that we were going to some maritime security exercises," Whitman said.
FOLLOW THIS TOPIC