STORY HIGHLIGHTS
Tiny one-year-old Sabia Mirani is painfully thin

She's getting medicine as her family prays for her health

Up to 3.5 million children at risk of contracting water-borne diseases, U.N. says

Floods have caused havoc across Pakistan

Sukkur, Pakistan (CNN) -- Little Sabia Mirani's body resembles a skeleton compared to other children her age. The tiny one-year-old is perched on her father's knee fishing out the last few bits of puffed rice in a small plastic bowl.
Her arms and legs are stick thin. Her slender neck doesn't seem like it can hold up her large head. She is one of the estimated 20 million people affected by the worst floods in Pakistan's history.
Sabia has had health issues since she was born and since the floods she has been getting weaker by the day.
Her father, Amir Mirani prays nothing will happen to her but there is little clean water to drink and she has a bad case of diarrhea. For a child in her condition diarrhea can be deadly.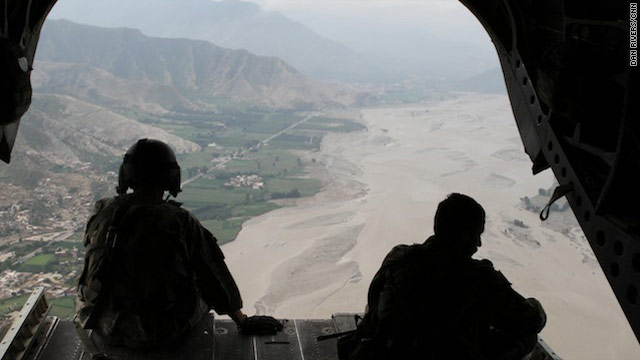 Gallery: Pakistan flooding in Swat Valley

Video: Political fallout of Pakistan flooding

Video: Urgent appeal for Pakistan aid
Up to 3.5 million children are at risk of contracting water-borne diseases, according to said Maurizio Giuliano from the U.N.'s Office for the Coordination of Humanitarian Affairs.
Mirani, a laborer has six children, and his wife is pregnant with his seventh. They lost everything in the floods except a handful of things piled up on the windowsill behind them.
They, along with dozens of other large families, are huddled together in what was a high school classroom. It has been turned into a free clinic.
The makeshift clinic is dark, dingy, and stifling due to the humidity and heat.
Electricity is so rare you can't even tell it exists.
"We were overwhelmed at first, treating 250 to 300 people per day. Now it is something like 80 to 100 patients," said Dr. Mohammad Yasin Arain.
He sits at a table outside with crowds of patients watching.
Patient number 18 plops down in front of him. It's a father holding his suffering son. The man tells the doctor his child's problem and promptly pulls down the boy's pants revealing the itchy rash on the boy's backside.
In a flash Arain grabs a needle and gives the boy an injection of medicine. The young boy screeches in pain, asking his father why he's hurting him. What the boy doesn't realize is the medicine could alleviate his suffering in the long run.
Here, the doctor says, skin rashes, fever, stomach aches and diarrhea are the most prevalent health problems.
The school-turned-clinic is teaming with children but there is no one to educate them.
According to the Pakistan Humanitarian Forum, more than 2,000 schools were either destroyed or are being used as shelters, severely interrupting education in Pakistan.
Still, the sick and helpless get two things here that thousands of other homeless flood victims don't -- three meals of rice per day, access to a doctor and free medicine provided by a government hospital.
Aid agencies estimate nearly 50 percent of the country still has not received aid.
"We are getting food at least," 50-year-old Bakthawar said, surrounded by 25 members of her family, most of them children. Covered in sweat from the midday sun she is racked with fear over the future.
"Where will we go? What will we do when the winter comes? She said. "We only have the clothes on our backs."
FOLLOW THIS TOPIC