STORY HIGHLIGHTS
U.N. secretary-general meets with Pakistan's president
Ban says he's never seen such devastation
Nearly 1,400 people have died
Prime minister: Flooding has affected 20 million people
Islamabad, Pakistan (CNN) -- United Nations Secretary-General Ban Ki-moon met Sunday with Pakistan's president, and both men urged the international community to step up efforts to help the millions affected by flooding in Pakistan.
Ban, who arrived in Rawalpindi, Pakistan, and President Asif Ali Zardari held talks before visiting some of the areas affected by floodwaters responsible for nearly 1,400 deaths.
"I am here ... to share my sympathy and solidarity of the United Nations together with the people and government of Pakistan," Ban said. "I am here also to urge the world community to speed up their assistance to Pakistani people."
He said he has visited scenes of natural disasters worldwide, but has seen "nothing like this. The scale of the disaster is so large -- so many people and in so many places, in so much need."
One in 10 Pakistanis -- up to 20 million people -- has been directly or indirectly affected by the floodwaters, he said.

Video: Urgent appeal for Pakistan aid

Video: Pakistan's independence

Video: No end in sight to Pakistan floods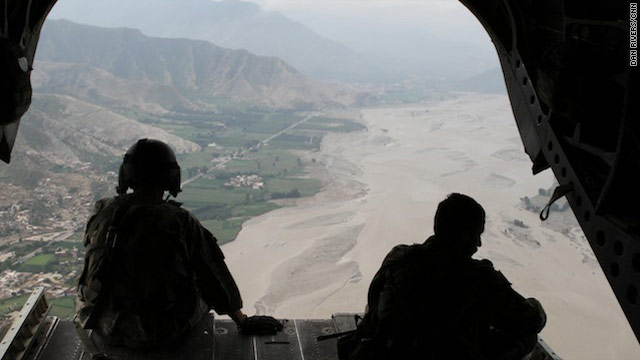 Gallery: Pakistan flooding in Swat Valley
"Thousands of towns and villages have simply been washed away," Ban said. "Roads, buildings, bridges, crops -- millions of livelihoods have been lost. People are marooned on tiny islands with the floodwaters all around them. They are drinking dirty water. They are living in the mud and ruins of their lives. Many have lost family and friends. Many more are afraid their children and loved ones will not survive in these conditions."
Zardari said his nation needs more international help to deal with the immediate recovery efforts as well as longer-term reconstruction and infrastructure development, according to his spokesman, Farhatullah Babar.
The president told Ban that flooding hit 71 districts so far, destroying more than 720,000 dwellings, Babar said. Zardari also said that the total destruction in terms of human life, property, cattle and infrastructure may be far worse than initial estimates, the spokesman told reporters.
Zardari thanked Ban for the U.N. appeal to the world community for $460 million so far in emergency aid, Babar said. However, Zardari added that his government was assessing the need for further resources and plans to approach other international bodies including the World Bank and the Asian Development Bank for further assistance, according to Babar.
Ban said he has decided to allocate an additional $10 million from the U.N.'s Central Emergency Response Fund. A total of $27 million has been allocated since the crisis began, he said.
In particular, Zardari noted that the flooding further burdened the Pakistani economy, which already was strained by the fight against terrorism, Babar said.
Earlier, a spokesman for Ban said the "enormous disaster" would require a huge international response.
"By visiting, by speaking to the authorities and by speaking to the world from Pakistan, the secretary-general can underscore the need for immediate assistance, and also that this is really going to be a long haul," said Martin Nesirky, a spokesman for the U.N. chief.
As the flooding continues to disrupt lives, the threat of cholera is now a serious concern.
A U.N. official said the group has heard of suspected cases of cholera but has not received reports of any confirmed cases. The World Health Organization said in a Sunday bulletin, "Rumors of confirmed cholera cases are pouring in."
"However, cholera is endemic in the region, and in the current emergency situation, it is expected that cholera cases might occur in the affected areas," said Maurizio Giuliano, spokesman for the Office for the Coordination of Humanitarian Affairs in Islamabad.
"The threat from cholera in the flood-affected communities remains high," Giuliano said. "In order to avoid excess mortality, it is important that all acute watery diarrhea cases with severe dehydration have easy and rapid access to standardized treatment covering waterborne diseases, including cholera."
Giuliano said at least 36,000 cases of acute watery diarrhea have been reported.
U.N. agencies and NGOs are expanding their capacity on the ground as quickly as possible, Ban said, as the Pakistani people need food, emergency shelters, medicine and clean water. "We are all deeply concerned about the spread of diarrhea and other water-borne diseases," he said.
He pledged that clean water would be distributed to at least 6 million people, with food assistance given to a similar number, and emergency health care would be provided for 14 million people, with a special program for children and pregnant women. "To do this, we need more support from the international community," he said.
One-fifth of Pakistan -- or an area about the size of Florida -- has been flooded in relentless monsoon rains, according to the United Nations.
Millions of people are still at peril as the bloated Indus River is cresting this weekend in parts of Sindh province. In some areas, the Indus has expanded from its usual width of one mile to as much as 12 miles.
Homes, crops, trees, livestock, entire villages and towns have been transformed into vast lakes, forcing thousands of flood victims to huddle in sludgy camps or in jam-packed public buildings. Others are sleeping under the stars next to the cows, sheep and goats they rescued from rising waters.
But when they might be able to return home remains a big question. Pakistan's monsoon season is only halfway over and more rain is on the way.
CNN's Samson Desta, Reza Sayah and Mila Sanina contributed to this report.
FOLLOW THIS TOPIC