North Korea fires artillery rounds in Yellow Sea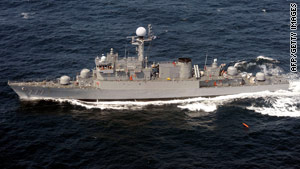 South Korean forces conducted naval exercises in the Yellow Sea last week.
STORY HIGHLIGHTS
South Korea issued a loudspeaker warning, but got no response
Pyongyang had threatened retaliation over South Korean naval exercises
South blames North for sinking of Cheonan warship, deaths of 46 sailors
(CNN) -- North Korea fired more than 100 artillery rounds Monday on its side of the border with South Korea in the Yellow Sea, South Korea's Defense Ministry said.
The North fired 10 artillery rounds between 5:30 and 5:33 p.m. local time (4:30 to 4:33 a.m. ET) and 100 rounds between 5:55 and 6:14 p.m. (4:55 to 5:14 a.m. ET), the ministry said.
The shells landed on the North Korean side of the Northern Limit Line, the disputed border between the two nations in the Yellow Sea, the ministry said. The South Korean military issued a loudspeaker warning to Northern forces, which did not respond, according to the ministry.
South Korea began a major naval exercise last week in the Yellow Sea, the largest since 46 South Korean sailors died in March in the sinking of a South Korean warship.
A South Korean investigation determined that North Korea was responsible for the sinking of the warship, the Cheonan, but Pyongyang has vehemently denied it.
However, North Korea said it would "react with strong physical retaliation to the anti-submarine drill to be staged by the group of traitors in the West Sea," according to the official Korean Central News Agency.
On Sunday, news reports said a South Korean fishing boat in the Sea of Japan and its seven crew members were being held by North Korea. State-run media in Pyongyang reported that the crew was "detained," but few other details were available.
CNN's Andrew Henstock contributed to ths report.
FOLLOW THIS TOPIC