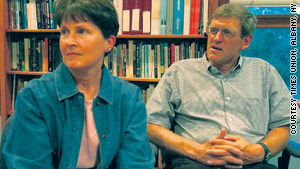 Tom Little, shown here with his wife Libby, was one of 10 aid workers killed in Afghanistan.
STORY HIGHLIGHTS
Dentist Thomas Grams of Colorado is the second American identified
U.S. Ambassador Karl Eikenberry, Secretary of State Hillary Clinton condemn attack
Clinton: Team was returning from medical mission: "We are heartbroken"
Ten bodies were returned to Kabul on Sunday
(CNN) -- U.S. officials have issued scathing condemnations of the attack on 10 multinational medical aid workers in Afghanistan.
"We are heartbroken," said Secretary of State Hillary Clinton. The killings show the "lengths to which [the Taliban] will go to advance their twisted ideology," she said. She called it "a despicable act of wanton violence."
Richard Holbrooke, the U.S. special representative for Afghanistan and Pakistan, described the killers as a "small, ruthless minority" that does not represent the popular view in Afghanistan.
The Taliban has claimed responsibility for the Thursday attack, said Karl Eikenberry, U.S. ambassador in Afghanistan, but "we do not know whether they are responsible or simply taking credit for the cowardly and despicable acts of others."
"The claim of responsibility by the Taliban is a transparent attempt to justify the unjustifiable," said State Department spokesman P.J. Crowley. "This attack cannot be justified, it cannot be rationalized, it cannot be condoned."
He called the killers "murderers who do not care about individual Afghans and their welfare. They only care about power and murder. We are reminded of why we are in Afghanistan: to try to help create a more just, more tolerant society."

Video: 6 U.S. aid workers killed in Afghanistan
Six Americans, two Afghans, a Briton and a German were shot and killed by gunmen in Badakhshan, in the northeastern region of the country, said Dirk Frans, the director of the International Assistance Mission. Two other Afghans on the team were alive, Frans said.
Eikenberry said officials were working to identify the victims.
Thomas Grams of Durango, Colorado, was among the Americans who died, said Katy Shaw, an administrator with Global Dental Relief, on Sunday. Grams had been working with the group for 10 years, she said, and had been to Afghanistan several times, along with Nepal. He was a general dentist who gave up his private practice to do relief work, she said. Grams started as a volunteer with the group, which provides dental care for impoverished children, but he later became a team leader.
"He was one of our favorites," Shaw said, describing Grams as quiet, unassuming and modest.
Libby Little, the wife of American optometrist Tom Little, told CNN Saturday her husband was killed, and the British Foreign Office confirmed the death of Dr. Karen Woo on Sunday.
The bodies of the 10 were retrieved and returned to Kabul by helicopter on Sunday, said U.S. embassy spokeswoman Caitlin Hayden.
"The Taliban has called this group of medical aid workers spies and proselytizers," Eikenberry said in a video statement. "They were no such thing. These were selfless volunteers who devoted themselves to providing free and much-needed health care to Afghans in the most remote and difficult parts of your country.
"Their murder demonstrates the absolute disregard that terrorist-inspired Taliban and other insurgents have for your health, have for your security and have for your opportunity," Eikenberry said, apparently speaking to the Afghan people. "They don't care about your future. They only care about themselves and their own ideology."
Aqa Nwor Kentoz, the police chief in the province, says the gunmen stopped the group on the road, took their belongings and shot them one by one. An Afghan was released because he was reciting excerpts from the Quran, Kentoz said.
The team had spent several days in Nuristan province, where they treated cataracts and other eye conditions, Clinton said in a statement.
"At their next stop, they planned to run a dental clinic and offer maternal and infant health care," Clinton said over the weekend. "They were unarmed. They were not being paid for their services. They had traveled to this distant part of the world because they wanted to help people in need. They were guests of the Afghan people. The Taliban stopped them on a remote road on their journey from Nuristan, led them into a forest, robbed them and killed them."
Badakhshan, bordered by Tajikistan to the north and Pakistan to the south, is a sparsely populated region comprised of a majority Tajik population and an Uzbek and Kyrgyz minority. Badakhshan was the only province that was not controlled by the Taliban when it ruled Afghanistan.
CNN's Ross Levitt and Elise Labott contributed to this report.
FOLLOW THIS TOPIC