Indonesian woman gets 3 years for harboring terrorists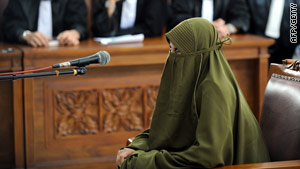 Putri Munawaroh during her trial in a court room in Jakarta on Thursday. She was sentenced to three years in jail.
STORY HIGHLIGHTS
Suspect charged with harboring Noordin Top
She denies involvement in terror acts
Munawaroh lives with her child in custody
Jakarta, Indonesia (CNN) -- An Indonesian woman was sentenced to three years in prison Thursday for aiding and harboring terrorists accused of suicide bombings and other attacks.
Putri Munawaroh was charged with harboring Noordin Top, the suspected mastermind of major strikes in Indonesia, and a few other suspected terrorists.
Top was killed in a standoff with police last September at a rented house that Munawaroh shared with her husband, Hadi Susilo. Top is believed to have orchestrated attacks on luxury hotels in Jakarta last July that left nine people dead, including two suicide bombers.
All of the men in the house were killed in the raid, including Munawaroh's husband -- who shielded his wife with his body.
Munawaroh was then pregnant with their first child. Munawaroh gave birth to a son, who's since lived with her in detention. She is one of the few women who've been tried for terrorism in Indonesia.
In a July 13 interview with CNN, at the South Jakarta District Court, Munawaroh insisted all she knew about one of her husband's house guests was that he was a cleric.
"My husband said once he finished his business, he would go. He wouldn't stay for long," Munawaroh said.
She says the guest, who turned out to be Top, came to their house near Solo, central Java, in June 2009. Two other men, also suspected terrorists, arrived at a later date, she said.
"As a wife, I was also blamed," she said. "The judges said I was helping those people. I wasn't involved in any bombings."
Experts said that while he was on the run, Noordin Top used his inner circle of militants, many with current or past affiliations with Southeast Asia's homegrown terror network, Jemaah Islamiyah or JI.
While many didn't agree with Top's methods, he benefited from his close associate's personal networks of JI family and friends.
"I'm accused of helping and hiding terrorists but all I did was to follow my husband. I was implicated because of my husband," said Munawaroh. "I survived then because it was God's will. If I died, I would've died a martyr. I didn't do anything wrong."
Her attorneys say they will appeal Munawaroh's conviction. It's unclear if her child will continue to live with her in jail.
FOLLOW THIS TOPIC