U.N., North Korea to discuss sinking of South Korean ship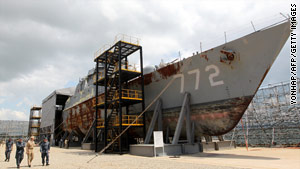 U.S. troops get a look at the wreck of the South Korean warship Cheonan on Thursday.
STORY HIGHLIGHTS
NEW: Joint military exercises are to be held July 25-28
The meeting will take place in the demilitarized zone
It is intended to set the stage for higher-level talks
North Korea was blamed for the sinking of the warship Cheonan, but denies it
(CNN) -- North Korea has agreed to hold talks Friday with the U.S.-led U.N. Command on the peninsula over the sinking of a South Korean warship.
It will be the second meeting between the two parties since the March attack on the Cheonan, which killed 46 South Korean sailors. An international investigation blamed North Korea for the sinking, an assertion the North has denied.
Officers from both sides will meet in Panmunjom in the demilitarized zone between North and South Korea. The talks are designed to set the stage for higher-level discussions on the disputed naval incident.
The demilitarized zone was created as part of the armistice signed between North and South Korea in 1953 that halted fighting in the Korean War, but the war has never officially ended.
The United Nations and North Korea began occasional meetings between generals -- "general officer talks" -- at Panmunjom in 1998 in an effort to lessen tensions. There have been 17 such meetings so far.
Earlier this month, the United Nations formally condemned the sinking of the Cheonan but did not specifically name North Korea.
"The Security Council deplores the attack," the 15-member council said in what is known as a presidential statement. It urged that "appropriate and peaceful measures be taken against those responsible for the incident aimed at the peaceful settlement of the issue."
It also called for full adherence to the 1953 armistice agreement.
About 8,000 military personnel from the United States and South Korea are to participate in joint military exercises dubbed "Invincible Spirit" from July 25-28, Combined Alliance Joint Naval and Air Exercises announced Tuesday.
"The purpose of this readiness exercise is to highlight Alliance resolve to face any threat North Korea may pose," it said in a news release.
FOLLOW THIS TOPIC