Australia discusses plans for regional refugee center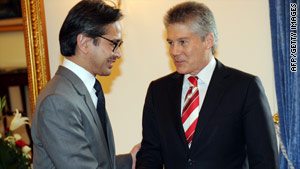 Australian Foreign Minister Stephen Smith, right, meets his counterpart Marty Natalegawa in Jakarta on Thursday.
STORY HIGHLIGHTS
Australia, Indonesia and East Timor hold talks on a regional refugee center
The center is meant to reduce the incentive for asylum seekers and smugglers
Australian Prime Minister Julia Gillard proposed the center last week
Jakarta, Indonesia (CNN) -- Australian Foreign Minister Stephen Smith said Thursday he had "productive talks" with Indonesia and East Timor about a regional detention center for refugees.
Officials from the three countries held talks over the past three days, and more talks are planned, Smith said.
Australia Prime Minister Julia Gillard is hoping to create a regional processing center as a way to reduce the incentive for asylum seekers, illegal immigrants and people smugglers to travel to Australia.
Immigration has always been a sensitive issue in the region, since thousands of asylum seekers use Indonesia as a launching pad to go to Australia. Tension between the two countries has also been high since Indonesia intercepted a boat full of Sri Lankan immigrants after an Australian tip-off, but Australia then declined to process the refugees.
"Conversations are still to be had; we are planning a more regional framework and the center is a potential part of that," said Indonesian Foreign Minister Marty Natalegawa.
Gillard first proposed the regional detention center be built in East Timor, saying she discussed it with President Jose Ramos-Horta, but East Timor's Parliament rejected the plan.
Gillard announced last week she was ending the three-month freeze on processing Sri Lankan asylum seekers.
CNN's Andy Saputra contributed to this report.