Scandal envelops sumo wrestling in Japan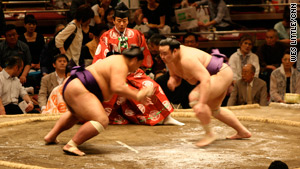 The Japan Sumo Association will announce a decision Sunday on a gambling scandal that has hit sumo wrestling.
STORY HIGHLIGHTS
Star wrestlers, stable masters caught in national scandal
Scandal centers on allegations that people involved in sumo wrestling were involved in illegal gambling
Final decision on firings, suspensions expected July 4
Tokyo, Japan (CNN) -- The association that governs sumo wrestling in Japan plans to announce a decision Sunday involving star wrestlers and stable masters caught up in a scandal that has tarnished the country's national sport.
An investigative committee made up of academics and sumo experts has urged the Japan Sumo Association to fire Ozeki Kotomitsuki, a star wrestler, and his stable master, Otake. The committee also has recommended that the association ban 15 wrestlers and 12 stable masters from a tournament that is scheduled to be held on July 11.
The scandal centers on allegations that people involved in sumo wrestling were involved in illegal gambling on baseball games. The scandal has rocked sumo wrestling in Japan, where national identity is closely linked to the sport and where top wrestlers can become national heroes.
In a televised news conference, members of the Japan Sumo Association and the investigative committee said Monday that they would announce their final decision involving certain wrestlers and stable masters on July 4. They also announced that a tournament scheduled for July 11 would go on as planned.
The association already has taken steps to expel Kotomitsuki, the official Kyodo news agency reported Monday. He and his stable master could be expelled without severance pay when sumo officials vote on July 4, the news agency said.
The allegations have shaken sumo wrestling, with 63 percent of people responding to a poll saying the summer tournament should be postponed, according to the national Asahi Shimbun newspaper.
The association has sought to repair the damage. The association's chairman says on the association website that the situation is "unprecedented and critical." He also promises to try to "regain the fan's confidence ... as soon as possible."
CNN's Yoko Wakatsuki contributed to this report