Julia Gillard: From union official to Australian prime minister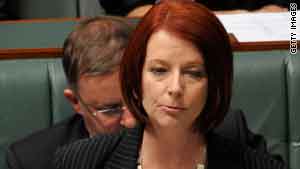 Australia's ruling Labor Party installed Julia Gillard as the country's new prime minister.
STORY HIGHLIGHTS
Gillard is seen as effective, a good communicator and hard-nosed politician
Australia's role in Afghanistan, as key U.S. ally and Chinese trade partner to continue
Gillard replaces Rudd as PM; becomes Australia's first woman PM
(CNN) -- Julia Gillard has become Australia's first female prime minister after the ruling Labor Party removed former PM Kevin Rudd. CNN's Stan Grant provided a background on the 48-year-old lawyer.
Q: First of all, who is Julia Gillard?
CNN: Gillard was born in Wales. She came to Australia as a child and has worked as a lawyer and later as a union official. She has had a successful parliamentary career both in opposition and government. She is seen as effective, a good communicator yet a hard-nosed politician.
Q: What does the installing of Gillard as prime minister mean?
CNN: First of all, this is history-making. Julia Gillard becomes the first woman to be prime minister of Australia. For the government, it is hoped Gillard can arrest a dramatic slump in the opinion polls. The Labor Party had decided that Kevin Rudd could no longer carry the party successfully to the next election. The party sees Gillard as a fresh face with a new, more open, conciliatory style will turn the party's fortunes around.

Video: Meet Australia's first female PM

Video: Leadership shuffle in Australia

Video: Leadership shuffle in Australia
Q: What does it mean for Australia's place in the world?
CNN: Kevin Rudd is proud that he has elevated Australia's world standing, most notably by gaining Australia a seat at the G-20. Australia is actively involved in Afghanistan, although the deaths of five Australian servicemen in the past month have raised questions about that. Australia has a close trading relationship with China and is a key U.S. ally. Those things will continue under Gillard.
Q: How is the naming of Gillard as PM being portrayed in Australia?
CNN: Are people welcoming the country's first PM? Having a female prime minister is seen as long overdue. Julia Gillard established herself as the logical successor to Kevin Rudd. It has come sooner than expected, but certainly welcome. The big question is whether she can win over the Australian people in the few months remaining before the next election.
Q: What should observers watch for from Gillard?
CNN: Afghanistan is firmly on the radar. More Australian casualties will further weaken support here. Australia is looking at drawing down troops from 2012 on. Australia's key relationships are with China and the United States.
Australia relies heavily on China to buy its natural resources but has a long-held strategic relationship with the United States. Navigating these sometimes opposing forces is crucial to Australia's future.
FOLLOW THIS TOPIC