China flood death toll rises to 211
STORY HIGHLIGHTS
Death toll rises to 211; about 120 missing
Dike breach adds to misery of flood-soaked region
Heavy rains and flooding affect 29 million in 10 provinces
2.3 million evacuated; damage estimated at $6.35 billion
Beijing, China (CNN) -- The death toll has risen to 211 as a result of flooding in China, state-run news outlets reported Wednesday.
A fresh breach of a beleaguered dike on a river in eastern China caused fresh flooding in an area already battered by floods, state-media reported.
About 100,000 people had already fled earlier flooding from the Fu River in Jiangxi province this week, the state-run China Daily newspaper reported
A new breach on the river intensified the flooding, state news reports said.

Video: Help and heartache in China's flood zone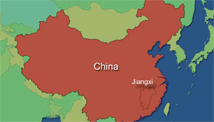 Map: Affected province
Heavy rains across 10 provinces in China have caused intense flooding, killing at least 211 people and leaving another 119 people missing, the Sina news agency reported.
iReport: Are you affected by the flooding? Share images and information with CNN.
More than 2.3 million people have been evacuated, although many were only moved short distances. More than 29 million people have been affected by the flooding, Chinese media reported.
About 195,000 houses have collapsed, while 568,000 others have been damaged, the state-run Xinhua news agency reported. The damage estimate is $6.35 billion (43.3 billion yuan), according to Sina.
FOLLOW THIS TOPIC