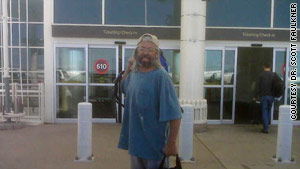 Gary Brooks Faulkner told Pakistani police that he had been looking for Osama bin Laden since 2001.
STORY HIGHLIGHTS
NEW: Gary Faulkner moved to Islamabad, brother says
Pakistani intel official: Pakistani doctor says Faulkner has psychological problems
Faulkner's brother: "He doesn't meet any criteria for psychosis"
Islamabad, Pakistan -- Gary Faulkner, the Colorado man arrested in Pakistan while hunting for Osama bin Laden, has been moved to Islamabad by the Pakistani government, his brother said Wednesday.
Dr. Scott Faulkner said Jim Flowers from the U.S. consulate in Peshawar, Pakistan, told him the Pakistani government is still questioning Gary Faulkner and that he has not been charged with anything.
Gary Faulkner, 50, was stopped near the border with Afghanistan's Nuristan province, Pakistani police announced Tuesday. He was carrying a pistol, a sword, night-vision equipment and Christian religious books, said Mumtaz Ahmed, a police chief in the area.
Faulkner told police that he had been looking for bin Laden since al Qaeda's September 11, 2001, and had traveled to the area several times before, Ahmed said.
Faulkner said he had no intention of killing bin Laden, but because of the weapons he was carrying, police did not believe him, Ahmed said.
Faulkner underwent a medical exam Wednesday. A Pakistani doctor determined that he has psychological problems and has been undergoing dialysis every 20 days, said a senior Pakistani intelligence official, who is not identified because he is not authorized to speak to the media.
A U.S. Embassy spokesman said Embassy personnel still have not had access to Gary Faulkner and were not aware of the doctor's examination.
Faulkner's brother, Dr. Scott Faulkner, said Tuesday that Gary Faulkner does not have mental problems.
"He doesn't meet any of the DSM -- that's the psychiatric manual -- he doesn't meet any criteria for psychosis. He is not schizophrenic. He doesn't have schizophrenia. He doesn't hear voices. God isn't telling him, 'Oh, Gary, go get him, go get him.' He's a normal person. He handles himself in society," Scott Faulkner said.

Video: Bin Laden hunter 'not psychotic'
"My brother is not crazy. He is highly intelligent and loves his country and he has not forgotten what Osama has done to this country," Scott Faulkner said.
A reward of up to $25 million is being offered by the U.S. State Department in return for information leading directly to bin Laden's arrest.
Gary Faulkner is a California-born independent contractor who has lived in Colorado since 1968, his brother said.
Colorado Bureau of Investigation records show that a Gary Faulkner has a lengthy criminal record of minor offenses that dates to the early 1980s. He served jail time on three separate occasions for various charges that included second-degree burglary, and was arrested as recently as 2006 for a traffic violation.
More recently, Scott Faulkner said, his brother felt the U.S. government was not doing enough to bring bin Laden to justice, "and he felt that he was, as a Christian, not afraid -- that he could boldly step out and that doors would be opened for him."
"And I agree with him," Scott Faulkner said. "The fact that he's been over there six times and has not received a scratch tells me that somebody's looking after him."
Scott Faulkner said his brother "could blend in with the local population and go places that our military cannot go."
"We have relationships with the Pakistani government: 'OK. You can go in this region or you can't go in that region,' whereas my brother could go about willy-nilly," he said. "He had a long beard. He looked like Taliban. When he
wore his robe, he looked like Taliban. The only way you could tell he was not was when he spoke."
In Washington, Tuesday, State Department spokesman P.J. Crowley said the Pakistanis informed the U.S. government about the arrest, but he couldn't discuss details. "We want to talk to him, figure out who he is, what brought him to Pakistan, and we'll take it from there," Crowley said.
CNN's Samson Desta, Melanie Whitley and Jim Spellman contributed to this report.
FOLLOW THIS TOPIC