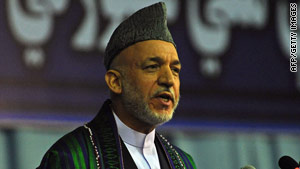 President Hamid Karzai speaks at the peace conference in Kabul on June 4.
STORY HIGHLIGHTS
Afghan interior minister and national security chief resign
President Karzai demanded officials explain security breach at peace conference
Conference was to discuss reintegration for former Taliban members
Kabul, Afghanistan (CNN) -- Afghanistan's interior minister and director of national security have resigned in the wake of an attack on a high-level peace conference last week, a spokesman for President Hamid Karzai said Sunday.
Karzai demanded an explanation of the security breach from Interior Minister Hanif Atmar and NDS chief Amrullah Saleh, and when they could not provide one, he accepted their resignations, the president's office said.
Karzai planned the peace gathering with tribal leaders to discuss a reintegration plan for Taliban members who renounce violence and lay down their arms.
Suspected militants, however, fired rockets, detonated explosives and engaged in an intense gun battle with security forces Wednesday as Karzai spoke at the peace meeting.
Three suspected suicide bombers were killed and one were arrested in connection with the attack, presidential spokesman Seyamak Herwi said Wednesday. The government later revised the number killed to two.
The attackers are not known to have killed or wounded anyone.
The resignations came on the same that Karzai began to act on the recommendations of the peace conference, or jirga.
He created a new commission to review cases of all suspected Taliban militants held in Afghan jails, his office said Sunday.
The commission will review the cases in order to find those who are believed to be in prison "without sufficient legally binding criminal evidence," the statement from his office said.
The commission is one of about 200 recommendations to emerge after delegates from around Afghanistan met at the peace conference.
Delegates to the conference also urged the Taliban to cut its ties with the al Qaeda terror network and asked that Taliban prisoners be freed from international detention centers.
Among other things, the delegates recommended that names of all Taliban members be removed from blacklists maintained by the United States and United Nations.
Those lists contain the names of suspected militants that U.S. authorities and their allies would like to arrest.
The delegates called for the release of any prisoners currently being held for giving faulty information to NATO forces, and they urged international forces to stop searches of private homes without adequate reason.
They also advised U.S.-led forces to accelerate their training of the Afghan military in advance of the anticipated handover of security responsibilities.
At the same time, they called for the establishment of a peace council comprised of provincial council representatives, tribal leaders and religious scholars.
The council, they said, should create a committee to help facilitate the release and reintegration of prisoners.
Karzai planned the peace gathering with tribal leaders to discuss a reintegration plan for Taliban members who renounce violence and lay down their arms.
The Taliban released a press statement a day before the attack, calling the peace meeting a "foreign-scripted peace jirga."
CNN's Thomas Evans contributed to this report.
FOLLOW THIS TOPIC