Another detained in Times Square probe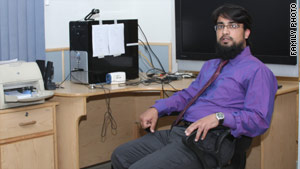 Humbal Akhtar is among 11 people being held in Pakistan who are suspected of having ties to the Times Square suspect.
STORY HIGHLIGHTS
Police raid house in Rawalpindi, Pakistan, last week

Humbal Akhtar among 11 detained in connection with Times Square bombing attempt

They haven't been charged but are suspected of having ties to Faisal Shahzad, officials say

Akhtar's wife says he doesn't belong to religious group, has anti-U.S. views

Islamabad, Pakistan (CNN) -- Another person has been taken into custody in Pakistan in connection with the failed bombing attempt in New York's Times Square, a senior intelligence official said Thursday.
Police in Rawalpindi, Pakistan, raided the house of Humbal Akhtar on May 17 and took him into custody, the official said. He is among 11 people detained for questioning in connection with the case.
Akhtar and the others have not been arrested and charged, but they are suspected of having links to Times Square car bombing suspect Faisal Shahzad, officials have said.
Akhtar's wife, Rahila, told CNN that she received a phone call from an unknown person saying her husband would be back soon.
Rahila said her husband has links to two other detained people -- Shoaib Mughal and Muhammad Shahid Hussain.
She said Akhtar is a childhood friend and classmate of Mughal's, who was the main organizer of their wedding. Hussain is a good friend of Mughal's and has met and visited Akhtar frequently.
Rahila said Akhtar is 32, with three sons -- ages 5, 3 and 1 month old.
She said he has a masters of business administration degree and received his education from Preston University in Islamabad. After completing his studies, he worked at the National University of Science and Technology in Islamabad and later started a business as a multimedia project manager.
Rahila said her husband doesn't belong to any religious organization. She described her husband as critical of U.S. policies.
But she asserted that such a point of view doesn't make him a criminal and that every Pakistani is critical of American policies.
Of the 11 people in custody, three were detained in Karachi, and the others were taken into custody in the Islamabad-Rawalpindi area.