Five dead in Indonesian police terror raids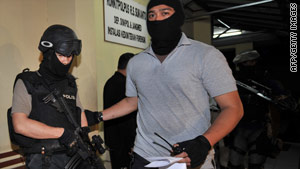 Anti-terror policemen stand guard outside a hospital room where the bodies of terror suspects are held.
STORY HIGHLIGHTS
Raids hit targets in the Indonesian capital and in the town of Cikampek
Group known as al Qaeda Aceh, an offshoot of Jema'ah Islamiya, targeted
Poice say al Qaeda Aceh runs a military training camp in Aceh
Jakarta, Indonesia (CNN) -- Indonesian police killed five suspected terrorists and captured a sixth in a pair of raids in Jakarta and a nearby town, a police spokesman said Wednesday.
The raids hit targets in the Indonesian capital and in the town of Cikampek, just east of Jakarta, about 1 p.m. (2 a.m. ET), national police spokesman Edward Aritonang told CNN.
They targeted a group with links to al Qaeda Aceh, an Islamic militant group that has run a training camp in the majority-Muslim Indonesian province of Aceh, Aritonang said.
Two of the suspects killed Wednesday were on a police wanted list, and one of those previously had been held by Malaysia under its Internal Security Act.
Police found two rifles, a revolver and ammunition for AK-47s and M-16 rifles during the raids, Aritonang said.
Al Qaeda Aceh has not carried out any known attacks. The group is an offshoot of Jemaah Islamiyah, the group behind the deadly 2002 bomb attacks on Bali and a pair of 2009 bombings at Western hotels in Jakarta.
In March, Indonesian authorities killed Dulmatin, the suspected mastermind of the Bali bombings, which left more than 200 dead. And they are continuing to search for Umar Patek, a Jemaah Islamiyah member believed to have assisted Dulmatin, Aritonang said.
"Police will continue to clean up all the terrorists linked to Aceh training facility, including hunting down Umar Patek," he said.