India, Pakistan in new peace effort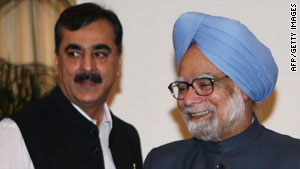 The meeting between Manmohan Singh (right) and Yousaf Raza Gilani was decscribed as "very good."
STORY HIGHLIGHTS
Indian PM Manmohan Singh, Pakistani counterpart Yousaf Raza Gilani meet in Bhutan
Indian official: "They agreed that the relations should be normalized"
Relations damaged by 2008 siege of Mumbai by alleged Pakistan-based militants
Two nuclear rivals have also fought wars over disputed Kashmir region
New Delhi, India (CNN) -- The leaders of bitter rivals India and Pakistan met Thursday in an effort to resume a peace process that was derailed by the 2008 attack on Mumbai by alleged Pakistan-based militants.
The meeting between Indian Prime Minister Manmohan Singh and his Pakistani counterpart Yousaf Raza Gilani was held in Bhutan on the fringe of a two-day summit of South Asian leaders.
India's Foreign Secretary Nirupama Rao described the talks as "very good," while Pakistan's Foreign Minister Shah Mehmood Qureshi hailed the meeting as "very positive."
"They agreed that the relations should be normalized," Rao told reporters in the Bhutanese capital of Thimphu.
In his discussions with Gilani, Singh reiterated that Pakistan-based anti-India terror groups remained a key concern for his country, Rao said. The Indian premier also insisted there has been slow progress in Pakistan in the trial of men suspected of plotting the 2008 siege of Mumbai that left more than 160 people dead, she said.
India has long urged Pakistan to take action against the Lashkar-e-Tayyiba -- the Pakistan-based group accused of masterminding the attack.
Gilani, she added, said his nation was committed to a speedy trial of the Mumbai suspects.
Rao said Thursday's talks covered all issues between the neighbors that have fought three wars since their independence in 1947, two of them over the disputed Himalayan territory of Kashmir.
"The foreign ministers of the two countries have been charged with thinking afresh and working out ways to restore trust and confidence in the relationship," she said.
In 2004, the two countries agreed to a peace process called the "composite dialogue" that covered eight issues, including Kashmir, terrorism and Pakistan's concerns over river dams on the Indian side, which it sees as a threat to its water supplies.
Successive governments on both sides of the border carried forward the talks, which they acknowledged as a means to ending their historical acrimony. Singh and Pakistan president Asif Ali Zardari hailed results from the negotiations in September 2008 as the countries completed four rounds of diplomatic meetings.
In an apparent reference to the militants, both leaders vowed to defeat forces they blamed for trying to break off their dialogue.
Thursday's talks come two days after India announced it suspected an official of its high commission in Islamabad of spying for Pakistan's secret services. Indian authorities said the suspect was cooperating with their investigation.