Death sentences spark protests in Kashmir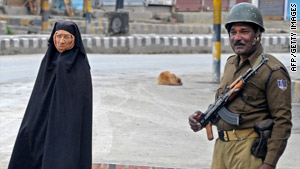 A pedestrain walks past a soldier on Friday in Srinagar.
STORY HIGHLIGHTS
Three people sentenced for roles in deadly 1966 bombing at a New Delhi market
General strike called for after verdicts shuts down Srinagar businesses
Person wounded after police open fire in Nowshehra area of the capital city

Srinagar, Indian-administered Kashmir (CNN) -- Anti-India protesters clashed with Indian security forces Friday in Indian-administered Kashmir after a New Delhi, India-court handed down death sentences to two members of the Jammu and Kashmir Liberation Front convicted of a 1996 bombing in a Delhi market that killed 13 people.
Another Kashmiri was sentenced to life in prison in the case.
The separatist group All Parties Hurriyat Conference called for a general strike that shut down city shops and businesses and and threw everyday life out of gear.
Indian paramilitary, central reserve police force (CRPF) troopers opened fire in the Nowshehra area of the capital city, wounding Manzoor Ahmad, 48, who was leaving of a mosque after offering Friday prayers, according to police.
"Manzoor was immediately evacuated to hospital where a team of doctors operated upon him," city police chief Javed Riyaz told CNN.
"The area had earlier witnessed a stone pelting incident," he added.
Indian police used batons and teargas to disperse stone pelting mobs shouting anti-India slogans in various parts of the capital city.
The mobs protesting the sentences took to streets despite severe security restrictions curbing pedestrian and vehicular movement in several sections of the city.
Indian police and paramilitary troops were deployed early in the morning in the old city areas to maintain law and order and prevent outbreak of violence.
Reports from Baramulla and Sopore in northern Kashmir and from the south Kashmir town of Anantnag said police there also used batons and teargas to quell violence as protests erupted.
Police detained Mohammad Yasin Malik, a senior separatist leader and chairman of the pro-independence Jammu and Kashmir Liberation Front (JKLF), and placed another separatist leader and chairman of the moderate All Parties Hurriyat Conference under house arrest.