Rich list tycoon on trial in China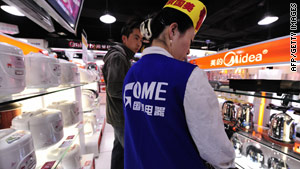 The founder of leading retail chain Gome has gone on trial in Beijing.
STORY HIGHLIGHTS
Huang Guangyu is founder of Gome, a leading Chinese retail chain
Huang accused of stock-market manipulation, insider trading and bribery
Huang ranked first on Hurun's China Rich List in 2008
Beijing, China (CNN) -- One of China's richest tycoons went on trial in Beijing Thursday accused of stock-market manipulation, insider trading and bribery.
Huang Guangyu, 41, founder of Gome, a leading retail chain, is the biggest business titan to land in hot water in China in recent years.
Huang emerged as a rags-to-riches entrepreneur in the late 1980s, when young Chinese pursued business ideas and turned them into multi-million dollar ventures.
Born to a poor family in southern Guangdong province, he moved to Beijing in his late teens and with a capital of 30,000 yuan ($4,391) set up with his brother a home appliances distribution company. He founded Gome Electrical Appliances Holding in 1987 and has built it into a flourishing retail chain.
Huang ranked first on Hurun's China Rich List in 2008, a local publication, with estimated fortune worth $6.3 billion. Such a top ranking is usually not celebrated in China because of the scrutiny it brings. Huang typically kept a low profile despite his wealth and influence.
His meteoric rise has captured the popular imagination in and outside China. He also inspired many aspiring Chinese entrepreneurs.
The trial is bound to rock the business world. Already, it is prompting discussions about the opaque world of Chinese business and politics.
China Business News, a financial daily, predicted that Huang's case will be "a hallmark event" marking "the end of the era of individualistic heroism" and the beginning of the "post-Huang era for home electrical appliances industry."
Police detained Huang in November 2008 for an investigation into suspected "economic crimes". Little was heard of him or of the investigation but the police dragnet gradually grew wider, ensnaring government and police officials in charge of fighting financial crimes. Huang resigned from Gome's company board in January 2009. In February, after 15 months in custody, Huang was formally charged.
With accusations of shady backroom dealings and under the table bribery, Huang's fall could ensnare a slew of government officials, including those in the police and tax bureaus.
"Mr. Huang is said to have built up an underground network of over one thousand governmental officials ready to assist him when needed," said Jingzhou Tao, law professor and a partner at a Beijing law firm. "The real issue for this case is to see how complex the intertwining relationship between businessmen and bureaucrats. The opaque discretionary power of government officials and the lack of ethical rules for the Chinese business community."
A two-day, pre-trial hearing began on April 14, where the prosecutor presented evidence, Chinese media reported. Huang attended, according to Chinese media reports, and denied the insider trading charges.
Gome and Beijing Pengrun Real Estate Development Co. Ltd, which are both managed by Huang Guangyu, are also accused of giving bribes to five officials amounting to more than 4.5 million yuan.