STORY HIGHLIGHTS
CNN crew drives over mountain pass at 4,300 meters

Monks, soldiers rotate shifts to try and find survivors

Crew sleeps in a tent, wakes up often to dogs barking, generators

Entire neighborhoods of Tibetan-style homes collapsed

Jiegu, China (CNN) -- The decision to go the quake zone was made quickly after we found out that the 6.9 magnitude temblor was shallow and centered in a county with a population of more than 80,000.
We grabbed equipment, some clothes, two survival kits containing sleeping bags, tents, a small cooking stove and water purifier, and then we were off to the airport.
We landed in Xining and loaded up with more supplies, lots of water, instant noodles and a generator. From Xining, we knew that we faced a long journey on hazardous roads, but what we didn't factor in was the high altitude and freezing cold.
Soon after we started driving, it began snowing and we all started experiencing headaches, which I thought were due to a pair of cheap eyeglasses I bought in Xining. As we were driving over a mountain pass, our driver pointed at the altimeter in his Land Cruiser -- 4,300 meters (note that Everest, the highest point in the world, is 8,850 meters). And that is where the altimeter stayed for most of the 14-hour journey. Things didn't get better until we arrived in Yushu, which was a bit lower, at 3,500 meters.

Video: A day of mourning in China

Video: China mourns quake victims

Video: Tension in China quake zone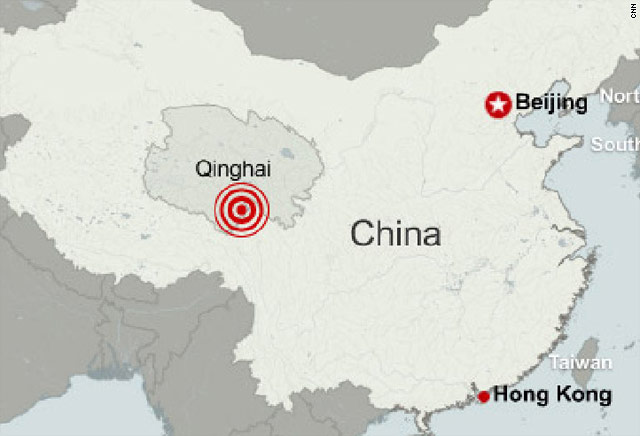 Map: Earthquake in China
Less than 24 hours after the quake struck, we arrived in Jiegu, the town hardest hit by the earthquake.
It was just after daybreak, and we drove slowly past People's Armed Police soldiers at each intersection along the deserted main road with sticks and riot helmets.
How to help: Impact Your World
We quickly found the huge pile of rubble where two hotels once stood, and set up for live television shots. As it grew lighter, crowds started to gather on the mountains of debris and rescue work resumed.
At first it was a group of monks, then a group of soldiers took over, and then the monks took over after them. A motorcycle weaved through the crowds on the main road, with a naked, lifeless body tied to the back.
In Yushu prefecture, Tibetans are the majority. I was a bit surprised to see people walking around with small Dalai Lama buttons pinned to their jackets, and vehicles with pictures of the Dalai Lama hanging from the rearview mirror.
Several people came up to us and said that immediately after the quake, the Chinese soldiers in the area didn't do anything to help them -- allegations that the government has denied.
The locals said Tibetan monks were first on the scene and helped dig their loved ones out of collapsed buildings. Even in times such as these, the deep-rooted distrust between ethnic Tibetans and Han Chinese was never very far from the surface.
Population: 5 million
People: 44 ethnic groups, including Tibetans and Mongols
Average elevation: Over 3,000 meters above sea level
Geography: Qilian Mountains, the Qingnan Plateau and the source of the Yangtze, Mekong and Yellow Rivers
GDP: US$3.2 billion; average GDP per capita US$639
Industries: Agriculture, hydropower, oil and natural gas

Source: China Internet Information Center
That night we slept in a tent -- more or less the same as sleeping exposed, except you can't see the stars.
For me, the cold night seemed endless. I woke up every 10 minutes either to the sound of (someone else's) generator that was left running all night or the loud barking of one of the three Tibetan mastiffs in the courtyard.
The next day we walked through entire neighborhoods of Tibetan-style houses that had collapsed into piles of mud bricks and wooden poles.
We watched as rescuers dug through the remains of one such home for hours, only to pull out the body of a woman. Her brother told us that she was the last of a family of three to be plucked from the rubble. None of them survived.
Before and after photos of Jiegu
More teams were on the rubble this day; one could tell by the numerous red flags that dotted the demolished residential areas. But as more supplies and relief workers came in, traffic slowed to a crawl on the streets of Jiegu.
As we slowly made our way out of town, it struck me how disaster zones feel similar, yet so different at the same time. And no matter what is done, no preparation can possibly be enough for a catastrophic event such as this one. A disaster will always be a disaster.
One could only hope the endless stream of headlights going into Jiegu would bring enough relief to the survivors.